Back in 2010, I remember reading about a brand-new currency called 'Bitcoins', then trading at about $0.01 each. I briefly dallied with the idea of buying £50 worth of them, but then forgot about it and went back to the much more interesting job of looking at classic cars for sale on the internet. As a result, I'm now not £136m richer but I have had an interesting collection of cars in the last few years, so I suppose that's OK.
In fact, there are some similarities between the current Bitcoin 'goldrush' and the value of classic cars. Since 2009, when Bitcoin was launched, there has been a surge in the value of many classic vehicles and some people have gained an excellent return for their investment. So, just as a bit of fun, I decided to give myself a copy of the 2017 Hagerty Price Guide, £200,000 to spend, and in Back to the Future style return to 2009 and the era of Gordon Brown, swine flu and the separation of Peter Andre and Katie Price. Here are a few of the classics I would buy.
How much is your car to insure? Find out in four easy steps.
Get a quote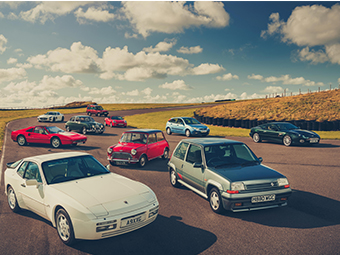 Ferrari Dino 246 GTS
Value in 2009: £100,000
Hagerty Price Guide Value in 2017: £300,000
Increase since 2009: 200%
Back in 2009, a very nice Ferrari Dino 246 GTS went unsold at auction with an estimate of £100,000 to £120,000 despite having the right 'chairs' and a good history. Fast forward to this year, and the car is worth something in the region of three times that estimate, despite Dino prices correcting slightly in the past year. They are still beautiful, nimble sports cars and once people came to terms with the small engine, prices rocketed. This year, Hagerty are recommending you watch out for the Ferrari 400 / 412 for a similar reason: the market seems to have 'got over' the boxy styling and four seats, and realised it for the bookend classic it is.
Ferrari 365 GTB/4 'Daytona'
Value in 2009: £144,000
Hagerty Price Guide Value in 2017: £590,000
Increase since 2009: 310%
Oh, how things have changed. Back in 2009, a Ferrari Daytona Berlinetta Hagerty would class as a Condition 2 car sold at auction for just £144,000, a fraction of today's value. Look up 'Berlinetta' in the dictionary, and you find it means 'little saloon' and an 'especially sporty coupe'. The Daytona is the epitome of such a car, and for many it sits with the 250 GT SWB and the 250 GTO as one of Ferrari's most beautiful designs.
Lamborghini Countach 5000QV
Value in 2009: £77,000
Hagerty Price Guide Value* in 2017: £346,000
Increase since 2009: 349%
On my trip back to 2009, my first purchase would be a Lamborghini Countach. I'd be very happy in the knowledge that the value of my new toy would shoot up, and I'd also fulfil a childhood dream to own one of the world's most iconic supercars. All Countach models have increased in value recently, but I've selected the 5000 QV as it was always a little unloved compared with its brethren and has only started to increase dramatically in value in the last couple of years.
Porsche 959
Value in 2009: £171,000
Hagerty Price Guide Value in 2017: £1,230,000
Increase since 2009: 619%
And the winner is… the Porsche 959! Looking at current values, the purchase of a 959 within my imaginary budget is a surefire winner. True, 'Sport' models and those with Stage 2 development from the factory are the most valuable, but for Porsche collectors (of which there are many) any 959 represents the ultimate road-going model the brand has produced.
*All values taken from current Hagerty UK Price Guide, using Condition 2 prices.