When SSC CEO Jerod Shelby arrived at the end of the seven-mile stretch of Highway 160 outside of Pahrump, Nevada, his stomach sank. The SSC Tuatara hyper car was parked, tyre engineers already scurrying around the vehicle like worker bees. But Oliver Webb, the race car driver hired by the hypercar constructor to attempt the world record top-speed run, was seated on the ground, head in his hands. It looked as if Shelby's goal to hit an average speed of 312 mph – 500 kilometres per hour – would remain out of reach, despite Webb's prior run of 301.07 mph.
That is, until Webb looked up at Shelby and said, "I saw a big number, Jerod. I saw a big number but I was saving the car, so I don't know how high I got." Webb was right; just as he was fighting to save the car from a terrifying crosswind that nearly blew him off the road north, he had seen a big number. As the data trace would reveal moments later, he'd seen 331.15 mph.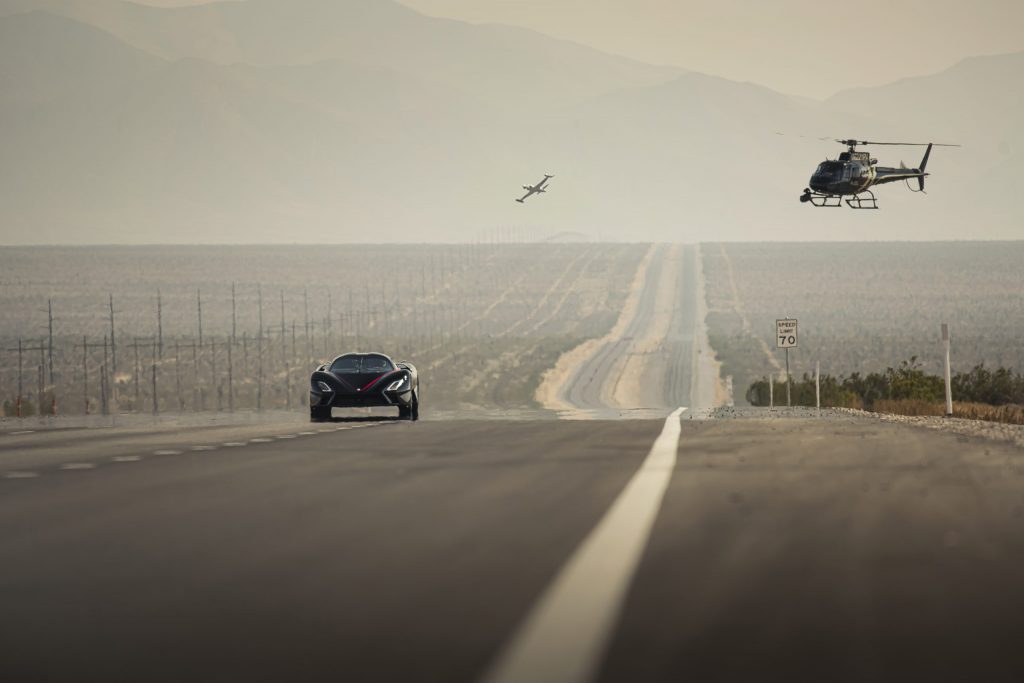 Webb's blistering pace gave the SSC Tuatara the outright title of fastest production car in the world, with a speed of 316.11 mph (508.73 kmh), handily beating the previous record of 277.87 mph set by the Koenigsegg Regera RS on the very same stretch of road.
Not only had the Tuatara eviscerated the previous confirmed record by nearly 40 mph more, Webb's 331.5mph single pass had blown the doors off the previous single-direction record of 304.77 mph set by a modified Bugatti Chiron. And for context, the fastest top speed recorded during the Le Mans 24 hour race is 251mph.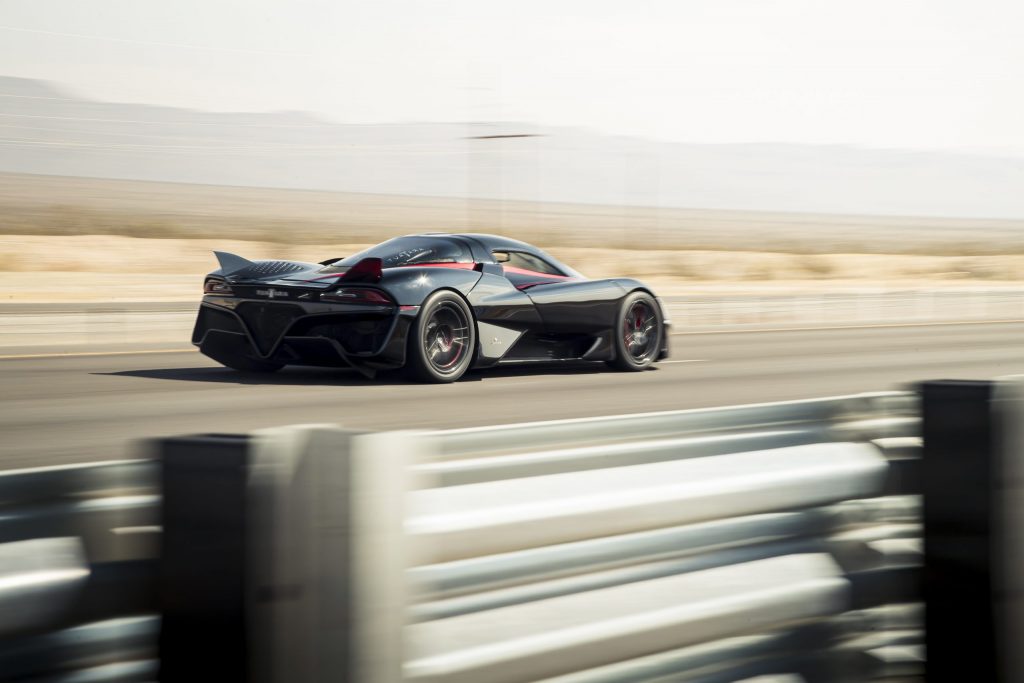 "All my dreams came true that day," Shelby told us. "It was a super emotional time for Oliver, for us, for everybody involved. It was a true testament to everything we've worked for [these last] 10 years."
Astonishingly, at 316mph, the SSC Tuatara would be travelling at 463 feet per second.
The feat took place on a seven mile stretch of public road, Highway 160, in Nevada. Somewhat soberingly, Webb had only driven the Tuatara for the first time the day before, at an airfield, and had never set foot on the road being used for the record attempt before he was strapped in for his first run. The Manchester-born driver is a seasoned single-seater and sports car racer, and has gone on to forge a successful career working as a development driver and consultant to the likes of BAC, Koenigsegg and W Motors.
For the record to count, the Guinness World Record stipulates that a car makes two consecutive high-speed passes in opposite directions, with less than an hour between each run. Webb's first pass at speed clocked an astonishing 287 mph. On his return run – which the team had deemed the harder of the two directions – Webb hit 301.07 mph, but suffered a scary moment as a crosswind blew him into the other lane of the two-lane road that was closed to the public. On his third attempt, headed back in the direction of his first pass, Webb clocked that fateful top speed of 331.5mph, achieving what Shelby would later call a "miraculous" top-speed that did in fact achieve – and exceed – SSC's goal of 500 kilometres per hour.
First announced in 2010, the Tuatara was meant to pick up where SSC's Ultimate Aero – once a land speed record holder itself – had left off. For more than a decade, Shelby and team worked diligently behind closed doors to craft the Tuatara into what you see here. SSC tapped famed designer Jason Castriota, formerly of Pininfarina, to pen the Tuatara into something capable of safely travelling nearly four-and-a-half times America's national speed limit.
To that end, it boasts slippery bodywork with a drag co-efficienct of 0.279. "This project," says Castriota, "is literally a decade in the making. I met Jerod Shelby in 2009 at the Dubai Auto Show and we inked a deal in the beginning of 2010 and the car, the initial concept of the car was penned that year – so this is the longest pregnancy ever! But we got there, and you know we knew we had the math, and we were excited to see what the car could really do."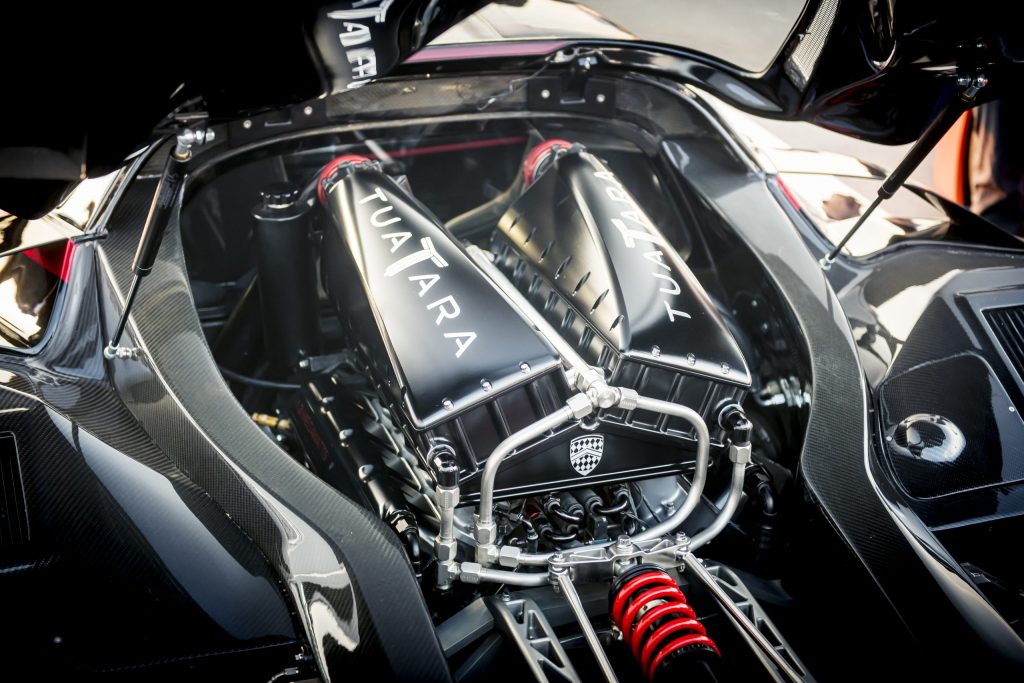 Powering this 330mph missile is a 5.9-litre twin-turbo LS-style V8 cranking out 1750 horsepower on E85, or 1350 hp on 91-octane pump gas. Southern California-based Nelson Racing Engines is responsible for this herculean power plant which weighs just 428 pounds (194kg). The engine bolts to a seven-speed automated manual transmission.
Castriota revealed to Hagerty that one of the greatest challenges – and dangers – for a high speed attempt such as this is slowing the car, rather than getting it up to speed.
"It would come down to the amount of road; you know how quick can we get up there, because it isn't really about getting up to speed, it's actually about slowing down. Because at those speeds Oli Webb – I call him our fearless pilot, because this is like Chuck Yeager stuff – you can't even actually apply the brakes, coming out of that speed you have to actually slowly lift your foot off the gas so you're really just slowly decelerating and you just need tons of earth [road] to slow the car down, so it's not even about getting there it's really about making sure you actually stop it. Because if you do it too quickly you're going to unsettle the car, which can be catastrophic."
Having done the rarest of things in the hypercar community – namely, demonstrating outrageous performance to independent observers – the SSC Tuatara has ensured itself a place in the history books. We look forward to following along with what's next.
For a unique insight, watch Hagerty's interview with Jason Castriota and learn more about how the the record attempt played out – and why this was his Super Bowl moment.
Via Hagerty US