Good museums are like the proverbial duck swimming against the flow: serene and calm on the surface, but working like fury down below just to stay still. The National Motor Museum at Beaulieu fits this description very well, and last week Hagerty was given exclusive access behind the scenes to witness just how much hard work goes into making Beaulieu a world-class motoring heritage site.
Most of the people who visit Beaulieu don't get to see the treasure-trove of artefacts that are recorded, stored and preserved by the National Motor Museum Trust. The library, open to the public (by appointment) has about 300,000 items in it, including books, workshop manuals, handbooks, sales brochures and magazines. The photographic collection has over one million images, from glass-plate photographs through to modern digital pictures, and there are over 42,000 motoring 'objects' covering car parts, road signs, badges, tools and statues.
How much is your car to insure? Find out in four easy steps.
Get a quote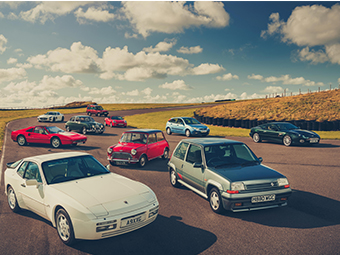 We were lucky enough to be given a glimpse of this motoring enthusiasts' dream. Shelf upon shelf of interesting things- a Sinclair C5, a stack of crates containing the original spare tyres for Sir Malcolm Campbell's 350hp Sunbeam 'Blue Bird', early petrol pumps, one of the first child seats- the range of the collection is breath-taking. Our group, made up of Hagerty staff and clients, were all motoring enthusiasts, and we all just wanted to be left alone in here for days, able to discover all the myriad of fascinating items kept on the shelves.
We walked into another room, filled with grey drawers. Encouraged to open them, we discovered badges, mascots, pennants and plaques from every age of motoring. Through a doorway into another room we found paintings, steering wheels and enamel signs next to a modern F1 driver's kit bag.
But the cars are what everyone comes to see, and they need a great deal of work to keep on the road. We were next taken to see the workshop, and given a tour by Senior Engineer Ian Stanfield (known to all as 'Stan'). Even at first glance, the vast range of vehicles they maintain was obvious- on the ramps were a VW Golf GTI 1.6 flanked by a 24- litre Sunbeam V12 'Matabele' engine on one side, and a veteran Briton 10hp car on the other. At the back of the workshop, Stan then showed us one of the jewels of the collection- the engine out of their 1924 Bugatti Type 35, one of the original Lyon Grand Prix cars. This straight- eight 1991cc engine was running well but water had been seeping into the crank case, so a full rebuild had been ordered. With its distinctive roller main bearings and tiny pistons, the engine was a thing of beauty.
Cataloguing and preserving all the museum's objects is an Herculean task, as Andrea Bishop, Director of Collections told us. Many of the objects were donated to the museum in good faith but with no written provenance, and much of her job over the last 20 years has involved researching items to clarify their importance to the country's motoring heritage. Also many mechanical parts need to be re-manufactured or repaired, as many of the Museum's cars are unique.
All this costs a lot of money, and the National Motor Museum Trust relies on the help of volunteers and donations to continue its work. Both documents and car exhibits can be sponsored, and for the more dedicated motoring enthusiast, entry to the exclusive Beaulieu One Hundred club is offered for an annual donation of £1,000. The latter, limited to 100 members, was described by Nick Mason as "probably one of the smallest yet most distinguished car clubs in the world!"
Here at Hagerty, we share the passion for our motoring heritage that is so evident in all the Beaulieu staff. We'd like to thank the National Motor Museum for their time, and for allowing us a glimpse behind the scenes of this superb resource.
For more information on Beaulieu National Motor Museum, including details of the Beaulieu One Hundred, please visit www.nationalmotormuseum.org.uk
STOP PRESS- BEAULIEU NEEDS YOUR HELP!
On August 23rd 2015, Beaulieu are holding their Supercar Event. They want a car from every year from the last 100 years… and they still have a few gaps! If you have a car that fits the bill (especially 1915-1955) please contact events coordinator Andy Ollerenshaw andy.ollerenshaw@beaulieu.co.uk or 01590 614614