With over 2,000 stands full of every auto related item that your heart desires, Beaulieu's world-famous International Autojumble attracts over 38,000 visitors and exhibitors annually and it's back for its 48th year on the 6th and 7th September 2014. Located in Beaulieu's picturesque parkland, this is a must-see for all collector vehicle enthusiasts.
The stands are a treasure trove of motoring parts, accessories, automobilia, literature, tools, clothing and much, much more – you cannot fail to pick up a bargain. Or if you are feeling adventurous, at the Automart you can find over 200 vehicles on sale, from restoration projects to concours condition vehicles. The Dealermart also sells a wide-range of quality classic cars.
How much is your car to insure? Find out in four easy steps.
Get a quote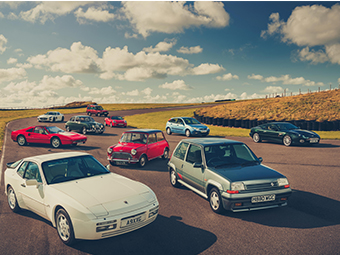 Admission gives entry to the whole Beaulieu attraction, including the National Motor Museum, World of Top Gear, Beaulieu Abbey and Palace House and Gardens. Visit Practical Classics magazine for special show subscription offers and to talk classic cars. Then head over to Ringwood Brewery's stand for a taste of their own cask beer, straight from their award-winning New Forest brewery.
We are excited for the museum's two new displays: For Britain & For The Hell Of It features the museum's iconic World Land Speed Record breakers, accompanied by a moving audio-visual display telling the story of British Land Speed Record achievement. The Motorcycle Story display will take you on a journey through motorcycling history with the museum's motorcycle collection presented in its historical and cultural context, covering varied racing disciplines as well as War Work, youth culture of the 50s and 60s and the Ace Café.
On Saturday, Bonhams auction house will be running their popular sale of collector cars, motorcycles and automobilia. Sunday will welcome Trunk Traders, with amateur autojumblers selling surplus motoring items from their car boots. This portion of the event should not be missed; it is a great place to find hidden motoring gems at bargain prices. If you need to clear space in your garage, it is highly recommended to reserve a vendor space of your own!
Admission to Beaulieu on both days will begin at 8:30 a.m., and at that time visitors will be able to access the National Motor Museum and enjoy breakfast in the Brabazon Restaurant. The Autojumble event is open from 10 a.m. – 5 p.m. on Saturday and 9:30 a.m. – 4:30 p.m. on Sunday. Ticket prices at the entrance are as follows: Saturday for one adult is £14.70 or £9.20 per child, and Sunday for one adult is £13.20 or £9 per child. Tickets are less if purchased in advance online at www.beaulieushop.co.uk or by telephone on 01590 612888 until 5 p.m. on 5th September.
For those wishing to exhibit, stand prices start at £130, a Trunk Traders Sunday space is £52 and for those wishing to sell a vehicle in the Automart, £82. For all stand enquiries and to book a space call: 01590 614614 or email events@beaulieu.co.uk.
For more information, visit www.internationalautojumble.co.uk.
BEAULIEU PRESS OFFICE CONTACT INFORMATION:
Margaret Rowles
Public Relations Officer
T: 01590 614603
E: pr@beaulieu.co.uk
Sarah Wright
Public Relations Assistant
T: 01590 614641
E: sarah.wright@beaulieu.co.uk
To register on the Beaulieu Press Centre please visit www.beaulieu.co.uk/press