There are a number of racetracks, Grand Prix events and major rallies essential to a race fan's lifetime "bucket list". I'd like to add one to that total: the Australian "Great Race", the Bathurst 1,000 kilometres in New South Wales.
When you have:
How much is your car to insure? Find out in four easy steps.
Get a quote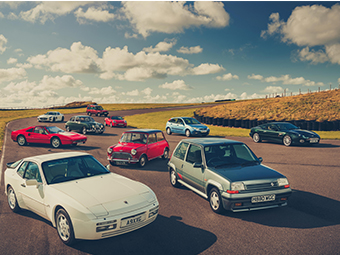 Watched the Monaco Grand Prix from a yacht in the bay at Monte Carlo.
Peered through the fence at the Mulsanne Straight as the Le Mans 24-Hour racers howled by at 200 mph – at night.
Been at the Indy 500 with an all-access pit pass.
Eaten a really splendid lunch at a pub overlooking the London-to-Brighton Veteran car rally (never a race).
Sat in the stands at the Goodwood Revival as a full field of 1950s Grand Prix racers left the start line in a cloud of blue smoke, driven by world-class veteran drivers like Sir Stirling Moss.
Had tickets to the Daytona 500 stock car race – on the finish line.
Stood just beyond the infamous corkscrew at Laguna Seca Raceway in Monterey, California, as the Moto GP riders crest the hill on the first lap.
Rented a house on the Col de Turini, so you can lean out the window and watch Monte Carlo Rally competitors powering through the snowy lane directly below you.
Flown in by helicopter to any stage of the Paris-Dakar desert race in the absolute middle of nowhere (and now in South America), as the contestants tear by, trailing clouds of dust.
Actually DRIVEN a car or ridden a motorcycle around any of these circuits, or in any of these events.
If you've done all those things, it's time you hopped a flight to Sydney, Australia (from £1,333 Heathrow return) and drove about 100 miles to Bathurst, New South Wales, and the Mount Panorama Circuit for the October 7-10th Great Race. I contend this is one of the premier circuits in the world and that the video which accompanies this story makes my case.
Built in 1938 just beyond the Blue Mountains, the Mount Panorama Circuit is 2 miles long, with 23 corners, rising 556 feet to its highest point. After a wicked series of corkscrews at the top of the hill, the mile-long downhill Conrod Straight sees cars topping 160 miles an hour.
The Bathurst 1,000-kilometre V8 Supercar race is considered Australia's Great Race and since 1963, Bathurst has been the setting for competition every bit as intense as Indianapolis, Daytona, Silverstone, Monza, the Nurburgring, Monthlery, and Le Mans.
It began as a 500-kilometre saloon car race in 1960 at Phillip Island, but the track broke up and the event moved to Mount Panorama in 1963. The Bathurst 1000 became the battlefield for the Australian Muscle Car Wars of the late 1960s and early 1970s – a no-holds-barred struggle between Ford of Australia and GM's Australian subsidiary Holden. Home-grown V8 muscle like the Ford Falcon XY GT-HO, the Holden Monaro, 6-cylinder Holden GTR Torana and the 4-liter 6-cylinder hemi Chrysler Valiant Charger were described at the time as "snorting, sweaty draught horses."
The video you are about to watch was made at a 2008 vintage race when Matt McGrath started dead last in a 1971 Ford Falcon XY GT-HO sedan. He had three laps to pass 43 other competitors, on one of the most exacting road courses in the world.
There is no soundtrack beyond the noise of his 351 cubic-inch, V8 engine. McGrath faced numerous Holdens, a Chrysler Charger, some Mini Coopers, a Studebaker Daytona, a Lotus 11, a Triumph TR6, several Alfa Romeo GTVs, and other 1960s Fords, some Australian and some American and even an Austin A30 (perhaps the notorious example with a 2.5-liter, 6-cylinder engine crammed into it).
I bet you watch this video again — right away — to see what you missed.
Thunder from Down Under: How Australia's auto industry flexed its muscles – and scared itself
While we're on the subject of Bathurst's Great Race and V8 Supercars, let's take a look at classic Aussie muscle cars from the late 1960s and 1970s.
With the exception of Mad Max's modified Ford Falcon XB coupe in the first two of Mel Gibson's films, few people outside Australia are familiar with the V8 muscle cars that roared across the Australian landscape between 1967 and 1978.
Yet they make an interesting choice for British collectors, as they are genuine right-hand drive muscle, with considerable advantages over their American cousins. Apart from the steering wheel being in the correct place, the 1972-78 Ford Falcon XA, XB and XC coupes weigh about 500 pounds less than the similar American Ford Gran Torino GT coupes and are about two feet shorter. Gearboxes are 3-speed automatic or four-speed manual. Without U.S. emissions, their engines can mine 385 horsepower from a 351-cubic inch Cleveland V8.
The earlier Falcon XT, XW XY GTs with the Phase III HO (Handling Option) are red-hot four-door saloons, capable of 141 mph off the showroom floor, 0-100 mph in 14.6 seconds and about 155 mph with the rev-limiter disconnected. In fact the formidable XY was responsible for the disappearance of the Australian V8 for 10 years, though blame can be laid at the feet of Sydney Morning Herald Motoring Editor Evan Green. He warned of "160 MPH SUPER CARS SOON" in a page one story on June 25, 1972, and it started a "speed kills" witchhunt among politicians seeking re-election (i.e. all of them).
A more significant story ran earlier in the Australian "Wheels" magazine with an over-the-shoulder cover photograph of editor Peter Robinson's hands on a Falcon XY GT steering wheel, as the speedometer read 144 mph. The ensuing outcry from do-gooders and insurance companies meant that manufacturers retreated from performance – just like in the U.S. – and V8s disappeared by the late '70s, hence the interceptor joke in "Mad Max II".
The horsepower gauntlet was thrown down initially by Ford with the Falcon XT GT saloon which won the 1967 Bathurst 500-mile race and began the rivalry which continues today. Then in 1968, three XTs won the team prize in the London-Sydney Marathon, finishing 3rd, 5th and 8th. A Hillman Hunter was the overall winner, but Chrysler Australia was so surprised that they never capitalized on their success.
Meanwhile over at Holden, GM's Australian subsidiary, the new 1968 HK Monaro coupe offered a 327 cubic-inch V8 option in the GTS coupe. The big motor, heavy clutch and four-speed gearbox made it a beast in the city but it was fast and durable enough to beat Ford at Bathurst, and the V8 race was on. Holden built its own domestic V8s, but the later HT Monaro used the universal Chevrolet 350 cubic-inch engine. Holden also developed the smaller Torana, which replaced the English Vauxhall Viva in 1969, and offered engines from a 1,300cc 4-cylinder to a 2,850cc 6-cylinder. The big-engine Torana was offered in XU-1 guise with three Stromberg carburetors and was adopted by the New South Wales police as their pursuit car – very Mad Max.
Chrysler's VH Valiant Charger sport coupe of 1971 was a unique Australian design, unrelated to the U.S. roots of Dodge and Plymouth. Though available with a V8, the hottest setup was a 4.3-litre, 6-cylinder with hemispherical head and three Weber carburettors almost bigger than the engine. The E38 option was billed as the fastest 6-cylinder you could buy, generating up to 320 horsepower with a 14.7-second quarter-mile.
Australian auto production is relatively small. There were fewer than 100,000 classic muscle cars built in 10 years, and a lot of these were simply used up in their home market. But much of Australia is a fairly moderate climate – except for the tropical north – so sound examples do exist. A number of experienced shippers can help you find the car you want and make sure that it arrives safely.
Phil Newell at www.aussiecoupes.com has been shipping cars between Australia and the U.S. for more than 15 years and recently moved back to Queensland. He says the appeal of Australian muscle cars is their rarity; they were made in small numbers, driven hard and are all about 40 years old, not subject to later restrictions. His website details and illustrates models to look for. If you want to see what's currently available on Australian websites, check here: www.justcars.com.au or here www.carsales.com.au
Cassie Freight International in Melbourne, South Australia, ships cars to Europe. General Manager Vennie Smith says UK buyers can expect to spend at least £2,870 to ship a car to England, with the journey taking between 35-48 days. The cost includes wharf charges, packing and agent's fees in Australia, shipping costs and also port and handling charges in the UK. The total can be reduced a bit if the seller will deliver the car to the Australian port and the UK buyer can pick it up at the other end. Smith also advises buyers to avoid peak season shipping – during the UK summer months – which is more expensive. Complete details at www.cassie.com.au.
Here are some of Phil Newell's estimates of values for the most important Aussie Muscle cars. High performance models command the strongest prices and with the exception of the 1967-71 Falcons, which were only built as 4-doors, coupes bring about double the price of other body styles, including saloons, utilities ('utes') station wagons and sedan deliveries. As with any collectible car, make sure you get what you pay for, have a pre-purchase inspection and check chassis numbers.
FORD:
1967-71 Falcon XR, XT, XW, XY GT 4-door: £41,600-£76,800 (Phase III HO most desirable, tributes and clones half price or less).
1972-77 Falcon XA, XB, XC GT coupe and 4-door: £12,800-£48,000. Add for XC Cobra, John Goss Special. (Mad Max replicas depend on quality, other tributes and clones half price or less).
HOLDEN
1968-76 Monaro HK, HT, HQ, HJ, HX Coupe: £6,400-£28,800 (earlier GTS models most desirable)
1969-76 Torana LC, LJ, LX Coupe and 4-door: £6,400-£28,800 (earlier GTR and XU-1 and A9X competition packages most desirable
CHRYSLER
1971-78 Charger VH, VJ, VK, CL Coupe: £3,200-£38,400 (R/T and performance packages E38, E49 and E55 are most desirable; plush 770 is overlooked. The 4.3-liter hemi 6-cylinder is faster and preferred over V8s).