It is easy to earn an invite to the most exclusive classic car collector events world-wide, such as Villa d'Este Concorso d'Eleganza, Salon Privé and Pebble Beach.
Just make sure your family owned a very special car – in this case, a 1932 Rolls-Royce 20/25. Also, it helps if the car has a fascinating history and truly international background, with a series of quite remarkable owners – this one started with a UK chassis and Swiss coachwork, was owned by the king of Afghanistan's brother, endured an "unwelcome bath" in Lake Geneva in 1939, was used in Rome during Mussolini's dictatorship, had a stint in Austria, a sojourn in England and an even longer one in the USA. There should be a mystery surrounding it, like the 35 years of silent absence until it emerged, forlorn and forgotten, in barn-find condition in America.
How much is your car to insure? Find out in four easy steps.
Get a quote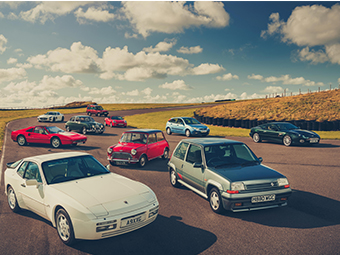 Of course, a tale of spooky coincidences and romantic searches does not, in itself, secure a worldwide tour at the top concours d'élegance.
"I had all but given up on my search," said Richard Raynsford, whose relentless quest to find the Rolls-Royce, which at one stage belonged to his family, finally came to an end by random chance when he spotted a photo of it, in poor condition and a continent away. Raynsford called upon the services of the oldest pre-war Rolls-Royce specialist in the UK, Dr. Will Fiennes of Fiennes Restoration, to return the car to its original glory.
"Fire had damaged the Rolls-Royce, but earlier attempts to repair it had damaged it even further," said Fiennes. "The hood (convertible) mechanism, which is very complicated, was significantly distorted. This was not obvious to start with, as it had been extensively repaired in the U.S., but the repairs masked the problems. The hood had to be dismantled and realigned using laser tools, then carefully reassembled."
Original interior detail, like trim and seats, had not survived the fire. "Many details had to be recreated: door handles, seat-adjusters, seat-hinge mechanisms, external chrome body trims."
Wherever possible, the restoration route was preferred. "The windscreen frame is made out of polished aluminium rather than chrome-plated brass, as are the cappings fitted to the doors' top edges. It is a feature of that particular model and one we were keen to protect: they had not been destroyed in the fire but – as they are quite delicate – being able to restore them was a real achievement.'
After more than 10,000 man-hours, a 12-year restoration and the effort of an entire team, the Rolls-Royce 20/25 drop-head coupé was ready to woo again: After Villa d'Este and its Concorso d'Eleganza, it won the Masters Class rosette at the RREC Concours and Rally, and "Best in Class" at Salon Prive' in London before returning to the States in very different conditions than when she left.
The car won two awards at this year's most exclusive and competitive automotive event in the world: the Pebble Beach Concours d'Elégance. Added to the Best in Class at the RROC National Meet (Lake Tahoe) two days before, it brings the total of awards won by Fiennes Restoration in the USA to three.
Fiennes Restoration's entry in the Rolls-Royce Class, which won "Second," beat Phantoms and Silver Ghosts in the competition, and was the only Rolls-Royce in the class whose coachwork had not been made in the U.S. It is the first time a "small" Rolls-Royce has won at Pebble Beach – small horsepower is no disincentive in a contest that values overall excellence rather than outright performance.
The Rolls-Royce-sponsored Lucius Beebe Trophy was also awarded to Fiennes Restoration, as it celebrates the accurate interpretation of both an era and a model's individual essence.
"We are thrilled to have been awarded not one, but two awards at the most spectacular classic automotive event in the world," said Dr. Will Fiennes. "Together with the Best in Class prize, which we won at the RROC's National Meet at Lake Tahoe just before Pebble Beach, we come back to the UK with a hat-trick of international awards in recognition of British manufacturing excellence."