Just how cheap can motoring really be? It's a conversation that comes up frequently among my merry band of Unexceptional-loving brothers and me. And it's not such a dissimilar concept either. The Unexceptional classics of today are the bangers of yesteryear, and the cars that can be had for pennies now will be the cars we bring to the 2030 Festival of the Unexceptional.
It came up in conversation between Calum Brown of the Hagerty Valuation Arena team, fellow freelancer Gillian Carmoodie and me over dinner the other week. Calum is launching a side project soon called SniffMyDiff – and he's suggested we kick off with a cheap car challenge looking at the bottom of the pit that is bangerdom. I'm up for it, because it's not a new concept to me – and because it lets me spend time with the Unexceptional classics of the future.
How much is your car to insure? Find out in four easy steps.
Get a quote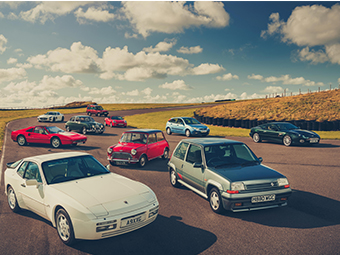 It's a game too few petrolheads play. There is no thrill on this earth comparable to the thrill of seeing a car you want, going and viewing it, making a cash offer and driving away in yet another new set of wheels. And because I'm poor (a side effect of buying too many cars!) the only way to play with any regularity is to chase 1990s and early 2000s bangers, of the type that will be the Unexceptional classics of tomorrow.
My everyday driver is a Rover 75 that I picked up for £250 last year, and which has provided 14 months of faultless service. I have a Rover Sterling that cost me £100, my last 75 was the same price, and my beloved old Peugeot 305 van (now rehomed with fellow Festival judge Jon Burgess) was £275. In short, buying endearing old tat for the cost of a good weekend away isn't new to me.
And yet I think my latest underappreciated auto might just be the best of the bunch – and no matter what Brown and Carmoodie come up with I doubt they're going to beat me. I've bought a Rover 400.
Yawn. Yes, really. Skelton's bought another Rover – what a surprise. And yes, I know- even when I bought myself a little revvy Japanese hot hatch, I had to choose the one that was built in Longbridge and was badge engineered under the longship. But there is method in my madness. The late 1990s 400 went on to become the 45 and the MG ZS – under that frumpy body is a capable chassis and a revvy, willing little K-series engine. It's got space for 5 and luggage in relative comfort, it's new enough to have a working heater, and thrifty enough to be a sensible backup should my 75 and XM simultaneously fall prey to mechanical mishaps.
It's a 416S, which was a run-out model with nice seats, maroon carpet, and alloy wheels – but was basically a poverty spec model. Mine's got a couple of nice options: a good radio, and air conditioning. Unusually for a cheap car the aircon works, and equally unusually for a Rover 400 so do heater fan speeds 1 and 2. The clock display is perfect – another 400 weak spot – and apart from a badly-sprayed bumper corner there isn't a mark on it. It's done 89,000 miles with 3 owners, and still feels as tight as a new example. It sounds too good to be true for a car that's in the bangernomics arena, and it is. That's why my friend Craig Cheetham and I snapped it up between us when we found it earlier this year.
So go on, how much do you think this little gem set us back? £250? £200? £100? Nope. £51.
Fifty one pounds for an MoT'd car with working air con and no immediate defects, low mileage, and in good cosmetic condition. And it's a riot. I've done about 500 miles in it so far, and it puts a smile on my face. At outside lane cruising speeds it's especially comfortable and refined for its size, out in the Fens where I live the suspension is supple and compliant, and the boot is big enough for the kitchen sink. Since purchase we've put another MoT on it, and apart from the tax, that's it.
Beat that, Brown. Over 12 months' worth of car for the cost of our dinner the other night – MoT included. I look forward to bringing it to the Festival of the Unexceptional in ten years' time.