The generation whose formative car years were during the Margaret Thatcher days are now poised to inherit the classic car hobby. It's already starting to happen. As Hagerty's Rob Sass mentioned in his piece, 'For Sale by Boomer' in March's Car and Driver magazine, the market for 1950s classics is already starting to fall flat as the oldest post-war baby boomers (now pushing 70 years old) start to hang up their driving gloves. Thirty- and 40-somethings (those born from 1965-85) are starting to gain serious disposable income and a passion for classic cars from their childhood — and guess what? They don't want the cars owned by their dads. They want poster cars from when they were 11 years old. That places the cars built between 1976 and 1996 squarely in the crosshairs of impending serious collectability. The dirty secret? In a lot of cases, the 30-somethings end up with the better cars.
Here are five of our favorite baby boomer vs. 30- and 40-something comparos:
How much is your car to insure? Find out in four easy steps.
Get a quote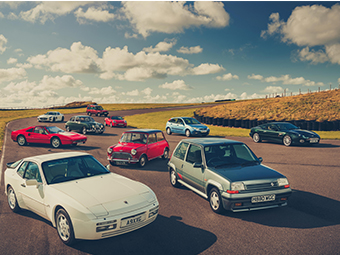 1964 Ford Consul Capri vs. 1978 Ford Capri 3000S: The original 1961-'64 car — once so revered — already feels like it's a relic from the Street Machine-era of teddy boys and hotrod roof-chops, and it's no longer able to talk to mainstream classic car fans. No, it's the Mark III that's white-hot gold now. If you're in the market, and haven't yet picked up one, then the time to strike is now. Thanks to its many star appearances in 'The Professionals' during the 1980s, wannabe Bodie and Doyles are now craving for these great-looking, tail-happy coupes, with instant power-oversteer on demand. No question, V-6s are the ones to have — aim high and enjoy.
1965 VW Karmann-Ghia vs. 1992 Volkswagen Corrado VR6: The Karmann-Ghia was extremely pretty, but at the end of the day, it was a Beetle in an Italian suit. The Corrado, on the other hand, was like a Scirocco that had grown a pair, styled-up and decided to kick sand in the face of all its coupe rivals. With a delicious narrow-angle V-6 and very little torque steer, it may be one of the most desirable front-drivers ever built. Only the Volkswagen 'scene' tax detracts. The VR6 Corrados, especially, are shoe-ins for the Hall of Fame of collectible cars. Find a good one now.
1972 BMW 2002tii vs. 1988 BMW E30 M3: The BMW 2002 has deservedly acquired a big reputation as the seminal German sports saloon, creating a market that's still alive and well today. The fuel injected tii is nearly mythical. However the fake wood dash appliqués scream '70s chintz, while the carburettor versions feel gutless, and with four-speeds, motorway driving is somewhat frenetic. The E30 M3, however, is more highly-strung than a thoroughbred racehorse and only gets better the harder you thrash it. The E30 M3 is already a phenomenon, with even the £20,000 standard cars being overshadowed by the climbing values of the Evos. Jump aboard now before being completely left behind.
1969 MGC vs. 1992 MG RV8: The MGC was a great idea — take the pretty B, add some much-needed power, and dose in a lovely evocative soundtrack. It should have been the ultimate open-topped tourer of its time. But disappointing performance and stodgy roadholding ruined it for many at the time, desperate for a replacement for their ageing Austin-Healeys. The RV8 was an object lesson in 'all good things come to those that wait.' Like the C, it wasn't the last word in roadholding or excitement (you bought a TVR Griffith for the latter), but with simply gorgeous styling inside and out, and a musical Land Rover V-8 engine up front, it serves up nostalgia so much better than the older car. A mere 2,000 were made, and as it's styled for the 1990s (and based in the '60s), it's exclusive, and perfectly in keeping with the wants and needs of 30-somethings everywhere.
1965 Land Rover Series 2 vs. 1989 Land Rover Discovery: We love the early 'Series' Land Rovers, and in truth, with the glacial styling evolution of the Landie line, they're pretty much universal in their appeal. But with dodgy on-road ability, torture-garden cabin and the sheer number of restored, not-for-off-road use examples now finding their way into the auction catalogues, it's time to start thinking laterally. Forget Range Rover Classics, as they're already embedded in the pantheon of all-time greats, and escallating in value accordingly, and instead enter the earliest Land Rover Discovery. Essentially just a dressed-down Range Rover with a Terence Conran interior, Alpine roof and Ford Transit radiator grille, the Discovery has yet to find its feet in the classic car scene. But the earliest examples are an acknowledged design classic, and the values for those that are both unmolested and free from rust are beginning to rise.