Home to names like Zagato, Pagani, Ferrari, Maserati, Lamborghini and Fiat, it's difficult to dispute Italy's place in automotive history. Classic car lovers can quench their thirst for Italy's finest marques by joining "Passion Sculpted in Steel: Italian Automobile Design," a VIP tour of the country's auto factories, museums and historic venues, May 7-17. The tour will be hosted by Jonathan Stein, longtime automotive historian and Executive Editor of Hagerty Classic Cars magazine.
"As someone who's been part of the hobby for 35-plus years and who's traveled to Europe many times, it's exciting to see these sites through the eyes of newcomers," Stein said. "I love being able to help travelers get into places and see things they might not see if they were traveling on their own, and enrich their experience any way I can.
How much is your car to insure? Find out in four easy steps.
Get a quote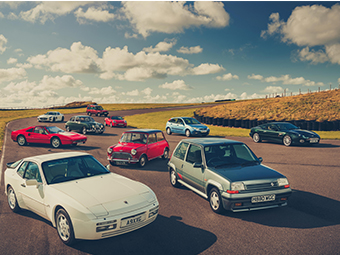 "It's also flattering to see the familiar faces of repeat travelers, which confirms that they enjoy what we're doing."
Travelers will trace the history of legendary Italian innovators in a variety of ways. Among the highlights:
Tour of the factory floors of Maserati and Pagani.
Tour of the Pininfarina Studios, designers of some of the most beautiful cars the world has ever seen.
Visit to the new Enzo Ferrari Museum to discover the man, the driver and the car maker behind the legendary name.
Celebrate the history of Italian car design – Lamborghini turns 50 years old in 2013; Bertone has been operating for a century.
Enjoy special visits to a number of private collections, including those of the Stanguellini family and the Panini's Maseratis.
At the Galleria Ferrari, view some of the fabulous race and road cars that have made Ferrari a household name.
View Europe's largest display of historic vehicles at the Museo dell'Automobile in Turin.
Watch vintage race cars wind through the streets of northern Italy during the Mille Miglia Rally, and learn about the racing legends at the Mille Miglia museum in Brescia.
Visit Italy's greatest race track at Monza, home of the Italian Grand Prix, and see the hallowed place where drivers such as Nuvolari, Fangio, Hawthorne and Musso once reigned.
Stein knows from experience that Monza will be a highlight.
"It's a magical place," he said. "As the longtime home of the Italian Grand Prix – now a road course – it almost feels haunted. I can only imagine the ghosts that must be there, if there are such things. The history there is amazing."
Stein also cites the old roof-top test track atop Fiat's former Lingotto factory in Turin.
"They couldn't use it now, not with safety concerns and the speed of the cars today," he said. "The track couldn't contain them. They'd fly right off."
Stein said every trip also seems to include a pleasant surprise or two, like the time he was at Zagato and saw a Fiat 8V Zagato that had once been raced by Elio Zagato in mid-restoration. "That was very, very special."
For information about "Passion Sculpted Steel: Italian Automotive Design," or to book your trip, visit smithsonian journeys or call (855) 330-1542. (UK residents may ring 011 989-393-3218). Please be sure to mention that you're a Hagerty client to receive a discount.