You don't have to travel too far back in time to reach an age when the Channel Tunnel was nothing more than an idea in the head of a boring engineer. It was only in 1987 that work commenced on tunnelling from Britain, with France following in 1990. And it took until the late '50s before the concept of the drive-on, drive-off car ferry was cracked, ending the sense of dread that drivers felt as they watched their car being hoisted aboard a boat and dropped into an open cargo hold.
Before either of these developments, the bright spark of the day was one Air Commodore Griffith Powell. 'Taffy' to his friends and colleagues, Taffy Powell worked with the Air Service Department of the Canadian Pacific Railway, and would be called to Montreal as Operations Controller of the Atlantic Ferry Organisation (ATFERO) when the ferry organisations had been taken over by the British Ministry of Aircraft Production.
How much is your car to insure? Find out in four easy steps.
Get a quote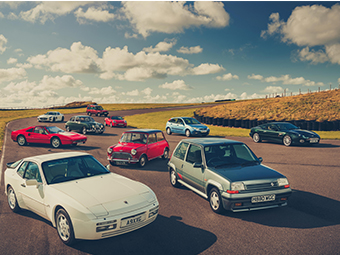 When RAF Ferry Command took over from ATFERO Taffy Powell was appointed Senior Air Officer to Air Chief Marshal Sir Frederick Bowhill – a position he held until the end of World War II.
With the war effort over, in 1945, shareholders in the British Aviation Insurance Company established British Aviation Services with a view to taking care of all the technical needs of the aviation industry. Taffy Powell was appointed managing director, and soon they were masterminding projects for clients who had spotted the opportunity for private air services in remote parts of the world, or fixing general charter and goods transport for mining firms.
One of those mining firms asked BAS to establish an air fleet of its own, and in 1946 Silver City Airways was registered, spiriting good, hard-working folk between Britain and the mines of Australia.
Against this backdrop, Taffy Powell found it frustrating that whenever he wanted to take a break from work and indulge in one of his favourite pastimes – a touring holiday in France – having his Armstrong Siddeley Lancaster loaded aboard a boat for the cross-Channel journey was a time-consuming and, frankly, risk-ridden affair.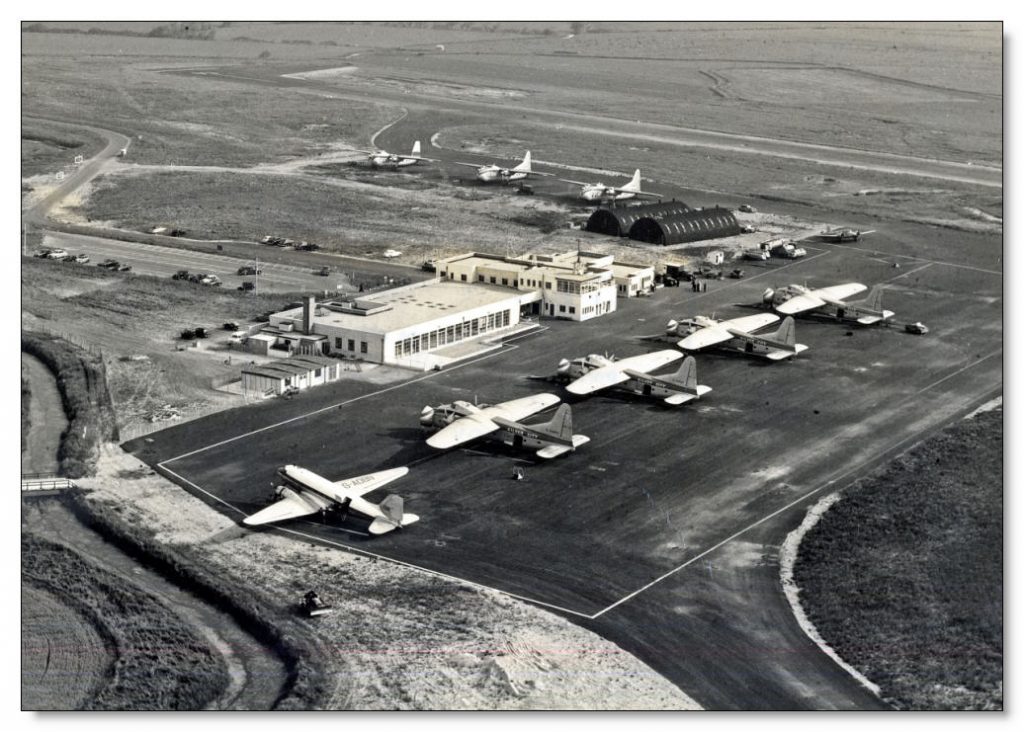 Not only that. Crossing the Channel by boat was a three-hour trip, and if your sea legs didn't get the better of you the tedium of taking two hours to crawl through customs and immigration would.
The answer was staring Taffy Powell in the face: why not load his car aboard one of the freighter versions of the Bristol 170 Freighter? It sported clamshell nose doors that would open like a blue whale's mouth and swallow all manner of cargo. Two large cars could fit without a problem, with room for other goods as well as space for passenger seating.
On 15 June, 1948, up, up and away went the Bristol 170 Freighter with two cars aboard, its maiden test flight proving a success, hopping the 47 miles from Lympne in Kent to Le Touquet on the north French coast in around 20 minutes.
That July, the first paying passengers booked their place on the new air ferry, albeit on a charter basis. A mere 200 cars were flown back and forth during the first season of Silver City Airways. When business resumed the next Spring, it was as a scheduled service. The two Bristol 170s found themselves making eight return trips a day – moving 2700 cars and their passengers by the end of the season.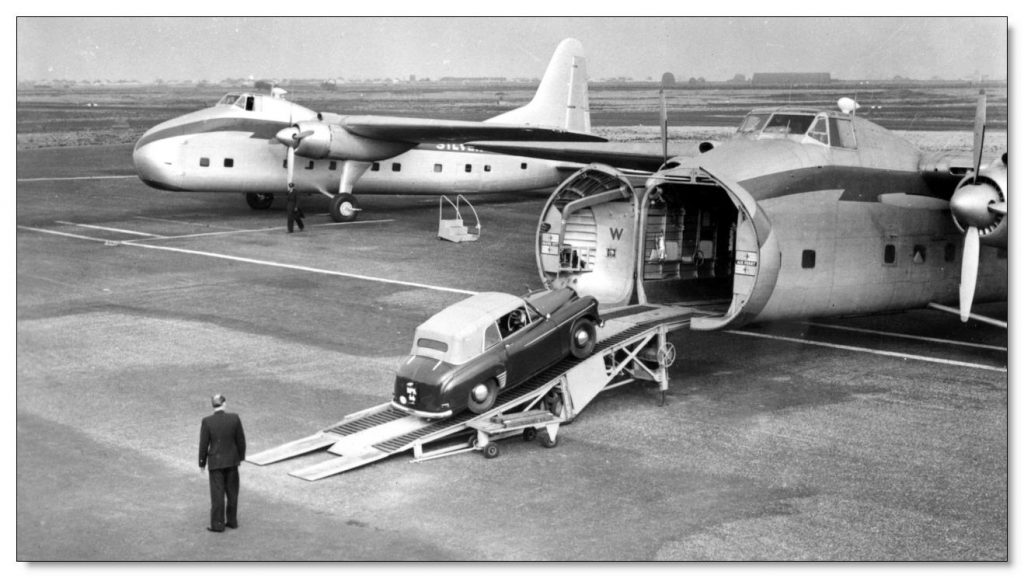 The two cars would be carried in the forward compartment of the Bristol 170 Freighters, loaded into the nose of the aircraft by being driven up a portable ramp. A separate compartment was set aside for passengers, and the cost was according to the size of the car – small, medium or large, at about £18, £22, and £27 respectively.
By 1950, business was, er, flying. Silver City Airways shifted 4000 cars, 1000 motorcycles and about 15,000 passengers, without a single mishap. Soon, larger versions of the Bristol 170 – the Superfreighter – would be pressed into duty, capable of comfortably carrying three cars at a time.
Grass airfields at Lympne gave way to venues like Lydd (its HQ) and at its peak, in 1960, the air ferry carried 90,000 vehicles and 220,000 passengers across the Channel, including stars of the day such as David Niven, Stirling Moss, countless motor racing teams and even the Queen's Rolls-Royce. (Silver City's PR man was John Webb, the motor racing and aviation enthusiast who went on to handle PR for Brands Hatch before becoming its Chief Executive. Which explains how there came to be a Silver City Airway Trophy handed out during Brands' first ever Boxing Day race meeting.)
However, by 1962, Silver City Airlines touched down for the final time. Substantial losses meant its parent company, British Aviation Services, decided to bail out, selling Silver City to P&O, which restructured and rebranded its new acquisition.
Drinking a cup of tea in the café at Lydd Airport, just last week, as I drunk in the surroundings and history, the appeal of the air ferry was easy to see. The crossing time was just 20 minutes, the environment was relatively exclusive with no crowds and the right crowd, there were no kerbs waiting to do damage to your prized motor car – or other cars packed in like sardines so that doors open against neighbouring cars – and I'd gladly take my chances with a light spot of turbulence than I would with a rising swell.
So what went wrong and why can't we catch the air ferry today? Apparently the short-haul flights meant high running costs for the planes. There was competition, too, in the form of Channel Air Bridge, founded by Freddie Laker, which kept prices down. And then the ferry companies got their act together, designing ships and docks around the practical problem of loading of cars and goods vehicles.
Today you can wander into Lydd Airport, catch sight of the Coastguard helicopter and a pair of old Douglas DC-3 props as you drive past the hangars, and visit the flying club's café, where stories of our skies in the past line the walls. And if you're anything like me, you'll probably look at pictures of the planes of Silver City Airways being loaded with cars, and think to yourself, "Now there's an idea that could catch on in this day and age."