Market analyst Richard Hudson-Evans assesses the high profile September auction sales, during which £53.68m was invested in 243 cars.
The dispersal of a dozen classics from the collection of new Top Gear host Chris Evans certainly magnetised plenty of viewers to the Bonhams auction tent at the Goodwood Revival where buyers parted with £12.7m in an afternoon to secure 57 or 69% of the 83 cars in the catalogue.
How much is your car to insure? Find out in four easy steps.
Get a quote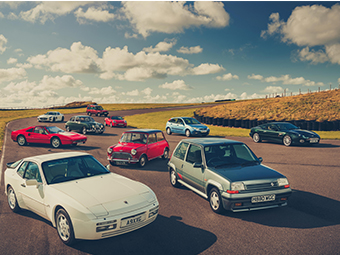 For although three out of five Ferraris from the acquisitive DJ's portfolio failed to inspire bids of £1.4-2.6m that were necessary to land his 1966 275GTB/6C 'Alloy' Berlinetta, the 1971 365GTS/4 'Daytona' Spider only bought at auction in 2014 and a 1963 250GT Lusso, two more of his Ferraris were hammered away to new keepers.
The 250GT that had started Ferrari life as a 1963 GTE 2+2 left hooker and had been treated to Short Wheelbase transformation in aluminium achieved a just over guide price £606,500 with premium. His right-hand drive 328GTS Targa first supplied to Ferrari F1 driver Nigel Mansell in 1989 meanwhile fetched £130,300, again, top estimate money.
Two other Evans' cars also performed strongly, the ex-Nicholas Cage XK SS that had been recreated from a 1967 donor Jag by Lynx in 1988 making £359,900, within estimate, and his ex-Met Police 1964 Daimler SP 250 rang more than one collector's bell until hammer fall at £82,140, a new record price for a Dart.
All three US-made and front-engined Scarab race cars sold, the F1/Intercontinental Formula Single Seater 001 for £673,500 under the gavel, and the 1958 Chevvy powered Mk1 Sports-Racer immediately afterwards for around £627,000, both below their forecast prices. The originally Fiat, later Bedford Turbo Diesel powered Bartoletti Tipo 642 Transporter of 1956 vintage subsequently played a drive-on part in Steve McQueen's Le Mans movie for which it wore different fictional race team liveries. Rescued from dereliction and restored, and resplendent in matching Scarab Blue again, the Double Decker workhorse realised an extraordinarily bullish £656,700, more than two of the Scarab race cars fetched!
The most jaw dropping performance of the first Drive Through sale at Goodwood was that of 'Blue Lena', the favourite trip machine of Rolling Stone Keith Richards. For the 1965 Bentley S3 Continental Flying Spur 4-Door Sports Saloon by HJMPW rolled across the Bonhams stage into new ownership to a couple in the posh seats for a hit parade topping £763,100 including premium.
Bentley had also been the flavour marque of the season the previous weekend during the annual International Autojumble at Beaulieu, where Bonhams clients spent £3.4m on 78 cars, 82% of the 95 entered. Having been unearthed from a family barn after 30 years asleep, the sale starring, restoration project qualifying 1929 4½-Litre HJM-bodied Sports Saloon 'Original' generated a very long bidding battle. A most determined British contestant on a telephone eventually won though, paying £695,000 with premium, more than four times the lower estimate figure. A very much rarer Bristol 402 Drophead that had effectively been laid up since 1971 was also rescued for revival by a US suitor for £104,500.
The same evening across the Channel in front of a black tie wearing concours crowd at Chateau de Chantilly, a unique 1972 Maserati Boomerang flew to a 3.3m euros (£2,439,552) result. The 'Concept Car' was the top seller of 18 of the 29 voitures in the catalogue, 62% of the contents of which sold for 8.55m euros (£6.24m).
The following Monday in Battersea Park, Ferraris occupied the top three places at RM Sotheby's during a £16.6m 75% sold evening, the highest sale total of the September auctions reviewed, and a Tour Auto, Goodwood and Le Mans Classic eligible 1958 250GT Berlinetta Competizione 'Tour De France' sold for £4,760,000, the top priced motor car of the period. The going rates at RM for a Lusso and an F40, both benchmark models, were the £1,232,000 paid for a 1964 250GT/L, and £845,600 for a one owner and 4000k from new in 1990 F40 with value-enhancing Ferrari Classiche Certification.
Earlier in the month, during a Friday evening session behind Blenheim Palace, 'The Salon Prive Sale' presented by Silverstone Auctions saw a right-hand drive 1968 Aston Martin DB6 Vantage Volante manual drive across the block and sell for £900,000, close to the top estimate. At the £331,875 paid for a 1962 Ferrari 250GTE S2, it is now most unlikely that the lhd 2+2 will be short wheel-based or re-bodied. An 85k from new in 2009 F430 Scuderia realised £225,000 and a 1986 911 Supersport driven 743k £163,125. Both were lhd imports, like so much of the EU mainland stock that has joined the national inventory. Whilst the 56% of the 62 top car entry that changed hands did not turn the trading screens green, the 35 sellers were hammered away for £4.98m with the charges.
The Silverstone Salon Prive top-selling DB6 confirmed the continued health of the AM sector. For Astons of all ages are still selling well, it seems, with a non-Vantage spec 1965 DB5 Convertible manual in right-hand drive also topping the Bonhams Goodwood Revival prices with a premium-inclusive £1,087,900 result. A pre-WW2 Ulster with Bertelli 2/4-Seater Sports-Tourer also fetched £740,700, a 1967 DB5 Vantage £303,900 and a 1958 DB MkIII FHC by Tickford £186,300. However, whereas the Astons sold out at Goodwood, several Ferraris and Porsches were unsold, even afterwards.
In what, admittedly, has become a massively over-served market, due to more auctions offering more cars to much the same number of buyers, the sale rates for Ferraris and Porsches at most of the September sale venues reflected what may actually be softening demand.
Indeed, the almost constant appreciation seen in recent months for both these high profile marques, particularly for some of the far from limited edition models, may well have come to end and the prices of those cars that sell now may have actually plateaued. For unless more reserves are lowered to reflect some market reality, the most telling stats of all – auction sale rates – could well decline further.