The first of the 2016 Goodwood auctions got off to a cracking start with the headlines dominated by a wealth of later classics.
The headlines were grabbed by a lucky 14-year-old whose father bought for him the 1977 Peter Brock/ Gerry Marshall Vauxhall Firenza Magnum. The car, ex- Dealer Team Vauxhall in the Spa 24 Hours in which it achieved a podium and averaged over 100mph, was bought for James Alexander by his parents at a cost of £93,340 including commission. They had apparently not opened the bonnet or sat in the car prior to the purchase, but probably knew what they were doing: father Tom has his own historic race team and hopes the Firenza will open the way to competition back at Goodwood in the future.
How much is your car to insure? Find out in four easy steps.
Get a quote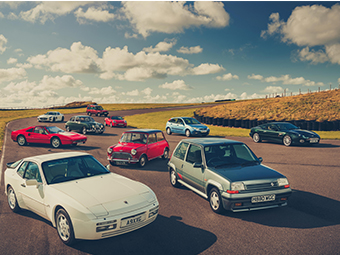 Pre-sale, the catalogue had been firmly focused on the sale of the Kingsley Curtis collection. This eclectic mix of cars was assembled by Mr Curtis over the space of over 50 years, and some unexpected cars emerged as stars. A 1981 Aston Martin V8 Volante, one of the cars Hagerty has identified as having gained significantly in value in recent months, achieved over double low estimate at £130,300. Similarly, the 1992 Ford Escort RS Cosworth, expected to achieve £28,000 to £35,000 gained an impressive £67,580. His Mercedes-Benz 300SL 'Gullwing', a rare UK-delivered car achieved an on-estimate £841,500, a good price considering the static values of this model recently. A nice Maserati 3500 GT Coupe, also a rare right-hand drive, did less well at £135,900 under an original estimate of £180,000 to £220,000.
Elsewhere in the sale, there were a number of other interesting cars that drew the eye. A very lovely right-hand drive 1970 Lancia Fulvia Sport Zagato seemed undervalued in the catalogue, with a low estimate of £18,000. Despite only having the 1300 engine and some steel bodywork, the punters agreed, and the car achieved a strong £31,050.
A Ford RS200, once the 'Marmite' car of the sporting Ford world, demonstrated the rise in the model's respect as it cleared £147,100, substantially over top estimate. Similarly, the strength of the vintage Bentley market was demonstrated, with a 1929 Bentley 6 ½ Litre Speed Six and a 1929 4 ½ Litre Tourer both achieving over top estimate.
All in all, Bonhams gave us what we have come to expect from the Members' Meeting sale: a wide variety of cars attractive to a wide audience.