The Aston Martin market appears to be in rude health, as Richard Hudson-Evans reports from the 16th Annual Bonhams Newport Pagnell Sale.
The stars of the show this year were open versions of the DB4 and DB5, in a sale that attracted over 2000 people. 74% of the 53 Astons and 100% of the AM-related ephemera displayed in the super-neat heritage workshops sold.
How much is your car to insure? Find out in four easy steps.
Get a quote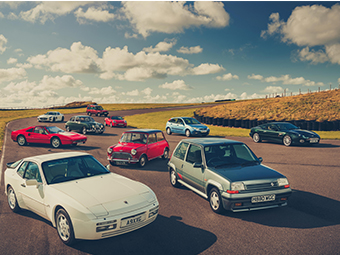 DB4
The growth in DB4 values was just one of the market readings from this year's sale with good examples achieving about £100,000 less than their more esteemed DB5 equivalents. Star of the show was a left-hand drive 1962 DB4 Series IV Vantage Convertible once owned by Sir Peter Ustinov which sold for a punchy £1,513,500 (including premium. This was over £500,000 more than the pre-sale estimate for a previously colour-changed and re-trimmed car which is almost ripe for more cosmetic surgery.
Another DB4 Convertible, of which only 70 were made, sold within estimate for £830,000. Also a Series IV, although right-hand drive, it had seen work by Bodylines and Spraytec with a 4-litre engine and power-assisted steering among its upgrades.
£494,300 was paid for a Dutch registered 1961 right-hand drive DB4 Series II Fixed Head, which had only done 2000 miles since full body-off restoration. Similar money was invested in a 1960 Series I that started life in the US, and would attract 5% import tax if adopting UK residency. A 1959 Series I, in receipt of Bodylines conversion to authentically-executed DB4 GT conversion and racey upgrades including a 4.2-litre motor, realised £404,700, only 25% of the value of a factory-crafted original.
The restoration projects in 'Barn Find Corner' were as popular as ever, led by a 1962 DB4 Series III in rubbed down state and lots left to do for £303,900 (£84,000 more than predicted).
DB5
Leading the DB5 pack was a US 1966 DB5 Convertible to Vantage spec with hardtop with early 1990s Bodylines restoration that achieved £1,524,700 with premium. A 1964 left-hand drive matching numbers DB5 Fixed Head with a Aston Workshop restoration sold for £600,000 (£50,000 under estimate) and £595,100 (£155k more than top estimate) for a right-hand drive car from the same year with 4.2 engine upgrade, again by Aston Workshop.
DB6
The highest price paid for a DB6 at this year's sale was £561,500 (within estimate)for a 1968 Mk1 Volante manual that had been right to left-hand drive converted. A 1969 Mk1 Fixed Head Vantage-engined from new with only 15,000 mileage fetched £373,340, £73k more than the estimate.
DBS & V8
All four DBSs in the sale sold out. A cosmetically sharp 1971 6 cylinder auto went for £74,300, an older restored 1971 6 cylinder manual for £68,700, and a 1968 6 cylinder manual, also restored awhile back and beginning to show it, for £63,100. One of the first V8-engined Astons, a 1971 DBS V8 auto, made £47,150, £12k over top estimate, despite attention to bodywork, sills, paint and a noisy rear axle being clearly signposted in the catalogue.
The top performing V8 V8s were a 1980 Vantage Series 2 manual, left to right-hand drive converted by the factory when new and fitted with the upgraded X-pack engine, sold for £149,340, and an always left-hand drive 1978 V8 'Stage 1' Series 3 auto for £130,300, £40k more than the guide. Even a 26 years stored 1972 V8 Series 2 manual in need of re-commissioning, at least, realised £50,600, £20k above estimate.
The very latest Aston Martin appreciation did not ignore the William Towns penned 'wedge-front and razor-edged' Lagondas. For a 1632 miles from new in 1984 ex-US Lag raised an Empire State sized £98,940, with the prospect of the still futuristic looking 4-door costing the buyer a further deficit-reducing 5% import duty if the car were to remain on-shore.
Exceptional Virages would also now appear to be going in the other direction. As a 1990 Coupe, admittedly a former AMOC concours winner with only 6300 or so miles of real world exposure, attracted very determined bidding until hammer fall, the buyer paying £74,300, £24k more than had been forecast.
By contrast, the earlier post-WW2 Feltham-made Astons have already enjoyed much growth in recent buying seasons. Their top performer at this year's sale was a 1952 DB2 Drophead with Swedish Royal provenance on the French Riviera which sold for £225,000, £25k below lower estimate.
A DB2/4 MkII, with Coupe coachwork originally fashioned 54 years ago on the very same Tickford site as the auction was being held, did make a mid-estimate £139,900. £96,700 meanwhile, top estimate money, was invested in a 1954 DB2/4 MkI Vantage Hatchback by Mulliners of Brum that, though highly original, was probably now too scruffy for most 'new money' not to be subjected to extensive surgery.
But then this was a day when a 1:8 scale Eon Productions licensed desk top model of the James Bond 'Golfinger' DB5 – admittedly fully loaded with Q goodies, including machine guns, bullet shield, ejector seat removable roof section and cutting spinners – made a far from miniature £4625. More than enough to buy a full-size classic at many other auctions on the UK provincial circuit!