Although both Ferrari superstar lots from the early 1960s at the RM Sotheby's Italian extravaganza ran out of digital interest at 10.25m and 9.1m euros on the multi-currency screen and failed to sell under the Canadian auction house gavel, a stampede of younger Prancing Horses did charge into new stables for bullish sums.
For as Roving Auctions Reporter Richard Hudson-Evans observed, on a high powered Saturday evening beside Lake Como, the Pininfarina 2002 Paris Motor Show exhibited Enzo in Giallo Modena with Certificata Ferrari Classiche plus luggage did soar to a more than top estimate 1.26m euros (£894,600 with premium), a 1991 F40 1.01m raised (£715,680), again more than forecast, and a 1996 F50 achieved a top of the guide price range 1.23m euros (£874,720).
How much is your car to insure? Find out in four easy steps.
Get a quote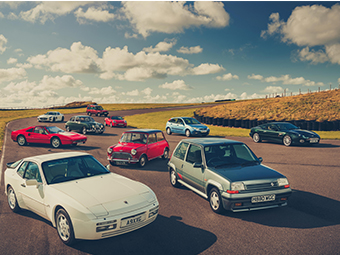 The ultimate development of Ferrari's final naturally aspirated V8 meanwhile – a 2015-manufactured 458 Speciale 'Aperta' that had been subjected to only 50 kilometres exercise also pulled a more than estimated 515,200 euros (£365,792). A more than forecast 358,400 euros (£254,464) was necessary to secure the keys of a 9200 kilometres from new in 2007 599GTB that had been dealer-upgraded to HGTE-spec.
With the 250GT SWB headliners – a 1961 California Spider and a 1960 Competizione in aluminium – failing to clear their lofty reserves, it was down to a Carrozeria-bodied 1952 212 Export Barchetta with much period competition form and retro eventing potential to be the drive-by sale's applauded top seller at 6.72m euros (£4,771,200), a new auction record for the model.
There were well heeled buyers in the Italian Lake District for the weekend, plus others playing remotely, for 14 of the 17 Ferraris crossing the block with 2.02m euros (£1,431,360) paid for a 250GT/L 'Lusso' Berlinetta in Pino Verdi from the final 250 series in 1963, and 1.9m euros (£1,351,840) for a 1985 288GTO, the spiritual successor to the 250GTO. 1.57m euros (£1,113,280) acquired a 1960 250GT S2 Cabrio and 728,000 euros (£516,880) a recently cosmetically refreshed 1973 365 GTB/4 'Daytona' Berlinetta with factory-fit air-con.
The 2015 Villa Erba price for a recently repainted in yellow 1971 Lamborghini Miura P400S, one of the final examples produced with fully matching numbers and displaying 26,085k exposure to the real world of flying stones, was 1,019,000 euros (£723,632), within the estimate band. In view of the location, and most appropriately therefore, a 1949 Alfa Romeo 6C 2500 SS 'Villa D'Este' Coupe had come to market in front of a perfectly targeted audience, the winning player paying 784,000 euros (£556,640), £60,000 more than forecast. A still rather basic 'Stradale' version of the 1974 Lancia Stratos HF in Pistacchio realised the required 431,200 euros (£306,152).
Pairs of classical Porsches and Mercedes-Benz were also popular on the poorer side of the Alps with a genuinely 'Lightweight' 1973 911 Carrera RS 2.7 Sport fetching 1,008,000 euros (£715,680), and a 1973, and therefore long-bonneted 911S MFI 2.4 Targa-top 190,400 euros (£135,184). Whilst a previously restored and more recently repainted 1958 300SL Merc Roadster with cracked leather made the required 952,000 euros (£675,920) and 201,000 euros (£143,136) was available for a 12,200 from new in 1959 and super-neat 190SL.
There were ten individual million-euro-plus performances during the evening session, each celebrated enthusiastically by the stakeholders who had made pilgrimage to what has become a major shrine on the euro-concours circuit. And while the two highest priced dishes on the menu were rejected by the market, investors were confident enough in futures to pay nearly 30 million euros (over £21m) for 33 top cars and a locally produced Riva Florida launch with Brigitte Bardot provenance (sold for £104,000!). With 87% of the 39 lots in the glossy catalogue successfully completing the course, there were therefore only 5 refusals at RM's bi-annual Italian Grand National.