In Paris or King's Lynn, people want to buy a classic, and they'll pay big money too.
It's a chilly wind that often blows across Europe in the first two months of the year, but when it comes to the classic market there's enough activity for auctioneers and vendors to be rubbing their cold paws with glee.
How much is your car to insure? Find out in four easy steps.
Get a quote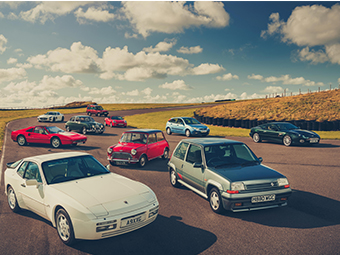 All too often there's a belief that nobody will buy a classic early in the year; clearly those harbouring such views have either forgotten about sales going on alongside Paris-based Retromobile. They might have forgotten that across the Channel, back in the UK it was clearly business as usual with Silverstone, ACA and SWVA all doing start of season business.
Of course this time of year it's the big – no, make that BIG – numbers that count, and those were found in the French capital where Artcurial, taking on the might of RM Sotheby's and Bonhams, achieved a whopping £14.439million for a 1939 Alfa Romeo 8C 2900 Touring Berlinetta. Long-term ownership always helps values of the most desirable cars and this Dutch-based example had not changed hands for 40 years.
While it came as no surprise just how well that early-incarnation supercar performed, those who prefer their performance cars from that ilk's latterday golden age wouldn't have been surprised that RM Sotheby's took the second highest price (£4.242million) with a 1987 Ferrari F40LM that began life as a prototype, but was then converted to LM specification, finishing 12th in the 1995 Le Mans 24 Hours.
Bonhams managed to scrape into the Top 10, its 1939 Mercedes-Benz 540K in Cabriolet A guise being offered by the Jordanian Royal family, and it was away for £1.621million.
Two later Bugattis, a 2018 Chiron and a 1994 EB110 Super Sport, slipped in at £1.993million and £1.778million respectively, both sold by RM Sotheby's. Indeed, scross the Top 20 highest-value cars sold in Paris during Retromobile RM sold 10, Artcurial six and Bonhams four.
Back in the UK, the 2019's first classic sale was held by Silverstone, whose staff probably had little time to relax over Christmas before they headed to the NEC for a sale date at Autosport International.
Many punters wouldn't have been surprised that most cars offered had a performance/sporting bias, and the sale's dearest car was a 1970 Ferrari 365GT 2+2, which looked excellent value at £200,250. A UK market car boasting matching numbers, it had been owned by the vendor for 20 years, and such long-term ownership is always appealing, especially with more exotic machinery. Away for a little less (£168,750) was an MG Metro 6R4 that was part of the Williams Grand Prix collection, and had covered 175 miles from new. The sale's chief surprise, however, was a car that was unlike any other offered – a 1935 Mercedes-Benz Type 290 Cabriolet B that was estimated at £60,000-70,000 – but went on to a healthy £121,500.
A couple of weeks later SWVA and ACA went back-to-back with their year-openers, and again SWVA, despite a slightly smaller offering, pulled in large numbers.
Plenty of auction-watchers question why these two businesses do so well, both with numbers of people but also with prices achieved. In both cases the size of the queues at the on-site cafeterias amply demonstrated how many were there, but also that classic auction-going is thirsty work.
SWVA kicked-off the two-day beanfeast and among the lots was a superbly restored 1967 Austin Westminster DeLuxe that didn't disappoint in any respect, the body, paint, interior, engine bay and boot being nigh-on exemplary. Finding a Westminster in this order is indeed rare (much more than for its more upmarket Vanden Plas 4-Litre R sibling) and strong bidding in the room and on the telephone translated into a premium-inclusive £14,256 – great value when compared with a Jaguar MkII.
Despite the fevered Westie bidding that paled into insignificance compared with an original order, few owners 1966 Jensen CV8 in tidy condition throughout, which was off for £42,120.
Over in King's Lynn the following day it was business as usual – a massive offering (202 cars), big crowds and strong bidding. There was no escaping which was the star lot – a delightfully-original 1964 Aston Martin DB5 that had been in one family's ownership since 1972, before which there had been just two owners. Lovely throughout, it pulled in bidders from UK and further afield, getting away for £556,500.
Adding to the sale's greater-than-usual appeal was a selection of project cars from a Danish collection, almost all being sold new in the UK. Alongside numerous Jaguar E-Types and a clutch of Triumph TRs and MG TDs was a 1959 Maserati 3500GT (£54,060) and an almost complete 194 Ferrari 330GT that soared well beyond its £100,000 upper estimate to a stonking £146,280.
In all a positive-enough start to the year, but one where realism rather than hedonism now controls spending.
What has been your auction car of the year so far? Tell us in the comments!