Bonhams managed to top last year's stellar £22M Festival of Speed auction in grand style July 12, 2013, setting all manner of records and bringing the current state of the top of the market into sharp relief. The ex-Fangio et al. Mercedes-Benz W196R Grand Prix car famously set a new world record for a car sold at auction (and nearly single-handedly beat 2012's sales total), netting £19.6M, including buyer's premium. Another 11 cars exceeded half a million pounds each, and in all 53 cars sold for £36M, marking the highest-ever total for any European car auction.
The W196R sale has been fully examined both pre- and post-sale, with the main takeaway being that ultra-rare and extraordinary examples of historically significant cars seemingly have no upper bound. A more subtle lesson is that usability is as important an attribute as any other when it comes to these cars' values.
How much is your car to insure? Find out in four easy steps.
Get a quote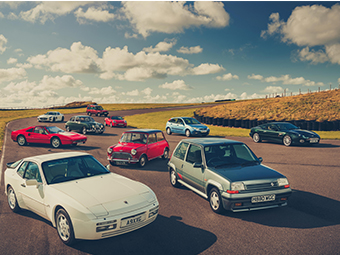 Lost in the excitment surrounding the Mercedes is the fact that most of the cars at the sale sold extremely well. A 1955 300S became the most expensive Maserati ever sold at auction at £4M, an Austin-Healey 100 test car became the second example of the marque to top the £500,000 mark, John Lennon's 1965 Ferrari 330 GT 2+2 sold far above current market for £359,900, and the ex-Alan Mann Racing's 1965 Lotus Cortina Euro champ car fetched just over £183,500.
Top 10
1954 Mercedes-Benz W196R Race Car sold for £19,601,000
1955 Maserati 300S Sports-Racing Spider sold for £4m
1934 Alfa Romeo 8C Le Mans Tourer sold for £1.9m
1965 Ferrari 500 Superfast Coupé sold for £852,700
1928 Mercedes-Benz Model 630K Tourer sold for £807,900
1953 Austin-Healey 100 Special Test Car sold for £785,500
1913 Rolls-Royce 45/50hp Silver Ghost Tourer sold for £718,300
1936 Lagonda LG45 Rapide Roadster sold for £617,500
1952 Bentley R-Type Continental Saloon sold for £539,100
1964 Aston Martin DB5 Volante sold for £533,500
Bonhams' next automotive auction will be held in Carmel Valley, Calif., 16 Aug. 2013. The company's next European car sale will be the annual Beaulieu auction at the National Motor Museum in England, 7 Sept. 2013.