Unless you've spent the last couple of months living on a very remote island, you are probably well aware of RM Sotheby's Duemila Ruote sale that takes place over the weekend of 25th– 27th November 2016.
The sale represents an extraordinary coup for RM Sotheby's- an auction consisting of over 430 cars, 150 motorbikes, 60 boats and a host of other motoring ephemera and bicycles- all goods seized by the Italian government, and all sold without reserve.
How much is your car to insure? Find out in four easy steps.
Get a quote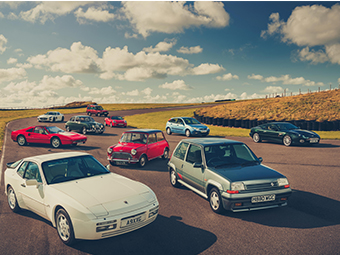 At the top end of the auction there are some stars: a Maserati MC-12, Alfa Romeo Sprint GTA and a Porsche GT are all ready to grab the headlines- but we've also spotted some more affordable lots that are equally as interesting. Here are our favourites.
1957 Alfa Romeo Giulietta Spider
Estimate: €10,000-€15,000
Hagerty Price Guide range: £24,400 to £84,100
This early Alfa Romeo Giulietta Spider has the small rear lights of the first 750 series, and properly restored would be a very valuable classic. The upside is that the engine looks to be the right type and the bodywork does not seem too bad. The down side is that it looks like parts are missing- the interior and hood frame are not seen in the photographs. Worth a punt? As a private buyer, who is ready to spend time restoring it slowly, it could be a bargain.
1987 BMW E30 M3 Evo
Estimate: €15,000-€20,000
Hagerty Price Guide range: £22,300 to £60,500
The BMW E30 M3 has been one of the fastest risers in recent Hagerty Price Guide updates. This Evo has a racing seats and steering wheel, and is in the classic Alpine white with M-sport colouring. If the estimate is correct, this could be a great car for your money- either as a very impressive track day car, or as an appreciating modern classic.
1994 Dodge Viper RT-10 Le Mans
Estimate: €5,000-€10,000
This Dodge Viper is partially disassembled and showing some damage on the left-hand side, presumably from a racing shunt. What is it? We think it is one of the two privateer Vipers entered in the 1994 Le Mans 24 Hours by the Rent-A-Car racing team. OK, so it will need some work to get it back together again, but bear in mind that Artcurial sold the other team car RT-10 at their 2016 Le Mans Classic sale for over €214,000.
1967 Ferrari 330 GT 2+2 S2
Estimate: €65,000-€75,000
Hagerty Price Guide range: £152,000-£249,000
I'm a big fan of the Ferrari 330 GT 2+2. Like many other Italian GTs with a back seat, it is not as well regarded as its two-seater brethren, but that just makes it more affordable as well as being more practical. Personally, I think the SII single-headlamp design also makes for a good-looking car. OK, so this one needs some work- the engine is partially stripped, the interior tatty and the bodywork needs (at the very least) a good refresh. But where else can you get a classic, matching numbers, Enzo- era Ferrari for this sort of money?
1971 Porsche 911S 2.2
Estimate: €10,000-€12,000
Hagerty Price Guide range: £98,000-£231,000
Values of long- bonnet, pre-1973 Porsche 911s have calmed in 2016 after a period of substantial growth in the preceding few years. That said, the guide price on this 911S is a hook to tempt the bidders, if ever I saw one. Ok, so it is only a 2.2, it is a long wheel-base model and looks to be in need of a fair amount of restoration, but €10,000? I'd bite your arm off- even the Fuchs alloys would be worth a couple of grand.
1946 Alfa Romeo 412 Spider Vignale Replica
Estimate: €30,000-€35,000
OK, so it is a replica- the original that raced in the 1951 Mille Miglia has not been seen since 1958- but what a stunning car. For the price of a good Alfa Romeo Duetto Spider, you could potentially own something that would turn heads every time you drove it. Few would know that the bonnet housed 'only' a 6C Alfa engine, rather than the original 12-cylinder monster, and the tan leather interior would make you smile each time you climbed in.
1969 Yamaha TR2
Estimate: €8,000-€10,000
The Yamaha TR2 was known as 'The Privateer's Friend' back in the late 1960s and early '70s, so ubiquitous were these racing bikes. They have aged well, still very much look the part, and have become highly collectable. From the photos, this bike looks to have had a recent restoration- the tyres seem brand new, with the tread 'hairs' still visible. At this price, it could be a bargain.
As ever, Hagerty staff will attend the event, so we'll let you know how these, and other lots, performed on the day.
RM Sotheby's 'Duemila Ruote' (2,000 wheels) sale takes place at the Fiera Milano exhibition centre, during the Milano AutoClassica between 25th and 27th November 2016 (viewing on 24th). For more information, visit the RM Sotheby's web page here: http://www.rmsothebys.com/tv16/duemila-ruote