At the halfway point of their main sale during the Saturday at Retromobile, the Artcurial house lights were dimmed, the packed room fell silent and, following some period action footage on screen, a battery of stage lights revealed, centre stage, the Italian star of the show, 1957 Ferrari 335/S chassis number 0674.
Tamed during the 1957/8 seasons by such brave titans of the track as Peter Collins and Maurice Trintignant at Sebring, Wolfgang Graf Berghe Von Trips in the Mille Miglia, Mike Hawthorn and Luigi Musso at Le Mans, Cuban GP winners Stirling Moss and Masten Gregory, and Lance Reventlow and Gaston Audrey around the Road America Elkhart Lake course, the much campaigned prancing war horse had come fresh to market after 46 years residency in the world's most significant Ferrari stables of the late Pierre Bardinon.
How much is your car to insure? Find out in four easy steps.
Get a quote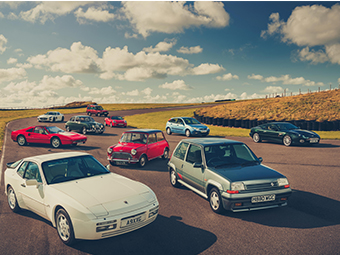 At what must surely be the pinnacle of a long and distinguished career on the rostrum, Maitre Herve Poulain started the bidding at a Mont Blanc sized 20m euros. Although this was quickly overtaken by even higher offers from several contestants who had made pilgrimage to Retromobile, and from others competing via telephones, until global breath was caught at 26m euros.
It was a further ten minutes however before an international bidder in the room had triumphed over the only telephone player left in the ring. And to loud applause, the hammer came down at 28m euros, costing the new guardian of Ferrari 335/S 0674 33,564,000 euros including premium (£25,844,280) and establishing a new record auction price for any automobile in Europe. The world's most valuable motor car sold at auction was the 1962 Ferrari 250 GTO Berlinetta, which set the existing record in 2014, when sold by Bonhams during Californian auction week for $38,115,000 with premium.
Among 14 new auction records achieved by Equipe Artcurial, an ex-Gianni Agnelli 1986 Ferrari Testarossa Spider scampered to a 1,178,400 euros (£907,368) conclusion and a 1995 Bugatti EB110 SS 'Le Mans' competition car raced to a 916,400 euros (£765,628) result, while a 1995 EB110 Super Sport for the Stradale made 904,800 euros (£696,696). The 487,200 euros (£375,144) invested in the future of the Vega 54 Prototype V put together in 1954 by Facel was also a record valuation for a Facel Vega.
Another record buster was a dinged and tatty 1965 Alfa Romeo Giulia Sprint GTA for restoration taken on for 429,200 euros (£330,484). Only two years ago, the same project was taken on here for 126,020 euros (£97,035)! Whilst also entering the record book were a 1953 Renault Fregate Ondine Cabrio by Ghia exchanged for 75,400 euros (£58,058) and a 1971 BMW 2002 Cabrio for 60,320 euros (£46,446). After six hours of Saturday trading, 89 or 72% of the 124 entries had sold for 54.11m (£41.66m with premium).
Six more new high prices for model were forthcoming during a three hour, all-Citroen marque sale Saturday, when there were buyers with 1.48m euros (£1.14m with premium) to spend on all, but one of the 48 Citroens during a 98% sold afternoon.
Most had been collected by the seriously acquisitive Andre Trigano, who was applauded for driving his favourite, a 1939 Traction 11B Cabrio, onto the stage to collect 162,400 euros (£125,903). His dusty 1961 2CV Sahara 4×4 with one engine under the bonnet, another in the boot and only 11,367l on the clock made 168,200 euros (£129,514). A 1968 ID 21 F Break picked up 69,600 euros (£53,592) and a 1980 Mehari 4×4 in desert disguise 49,720 euros (£37,514), all new record highs.
Earlier in the week in Place Vauban, RM Sotheby's hammered away a 1955 Porsche 550 Spyder with period privateer race history for 2,744,000 euros (£2,112,880), a 1957 BMW 507 S2 Roadster with hardtop for 2,016,000 euros (£1,552,320) and a 1955 Mercedes-Benz 300SL Gullwing for 1,176,000 euros (£905,520).
The results were quickly topped though by a 1962 Ferrari 400 Superamerica LWB Coupe Aerodinamico, close to reserve on the night, but post-sold for 2,950,000 euros (£2,271,500). A 2004 Enzo that had been accident damaged in 2006, but totally rebuilt from new parts and Classiche certificated, cost a successful bidder 1,568,000 euros (£1,207,360), whilst mint 1997 and 1989 examples of F50 and F40 raised 1,275,000 euros (£981,750) and 1,036,000 euros (£797,720). By book close, 48 of the 61 cars on the carpet had sold for 18.99m euros (£14.63m with premium).
In the Grand Palais, where the very first Motor Show was held in 1901, a 'No Reserve' 1966 Ferrari 275GTB Berlinetta long-nose with two-cam engine fetched 2,070,000 euros (£1,593,900) and a 1961 Aston Martin DB4 Series IV 609,500 euros (£469,315) under the Bonhams gavel. A 1951-dated Petersen Bentley 6½-Litre Dartmoor Coupe sold for 483,000 euros (£371,910) and a 1964 Rolls-Royce Silver Cloud III Cabrio for 425,500 euros (£327,635).
Among a clutch of Ferraris from this century valued here, a 2002 550 Barchetta sold for 451,667 euros (£347,670), a 2010 599GTO for 425,500 euros (£327,635), a 1927k since new in 2002 575M Maranello Coupe for a record 345,000 euros (£265,650), a 2005 575 Superamerica for 333,500 euros (£256,795). By lights out, 60% of the 131 automobiles had changed owners, who paid 12.58m euros (£9.68m) for 77 cars, and there were buyers for 34 or 72% of the 54 classic bikes auctioned.
After all four car sessions in Paris had been concluded, 261 of the 364 voitures offered sold for 87.16m euros (£67.11m with premium), the overall sale rate being 72% and, thanks to the Big Bucks sellers, the average spent per car in the French capital this year being £257,126.
In the UK meanwhile, the first three auctions of the new buying and selling season have seen sale rates range from a 37 classics sold 55% before any Charterhouse post-sales after a £300,000+ Sunday auction at the Shepton Mallet Showground – via an initial 73% sold Saturday sale by ACA in King's Lynn, where 166 of the 231 auction cars sold for £1.44m – to a 94% SWVA sale at Parkstone, Poole, where only 4 of the 68 auctions cars failed to sell during a £446,128 weekday morning.
In Norfolk, a 1987 Ford Capri 2.8i driven only 2300 miles by one lady owner realised £37,275. In Dorset meanwhile, a 1986 Ford Sierra RS Cosworth with 22,000 warranted mileage made £45,360 and £42,120 was bid for a running 1960 Austin-Healey restoration project. Whilst an only recently revived 1973 Jensen Interceptor III changed keepers for £22,000 in Somerset.
And so, after 267 of the 366 mainstream auction cars offered had sold for £2.19m, the UK sale rate for the year so far has been 73% (almost exact the same proportion sold as Paris), an average therefore of £8188 spent per non-essential hobby classic.