Once heralded as a wonder material, asbestos is now known to be very bad news. The six naturally-occurring silicate minerals collectively known as asbestos were historically prized for their flexibility, availability and heat insulating properties and were widely used throughout the manufacturing and construction sectors during the late 19th and 20th centuries. Growing awareness of the material's danger led to several pieces of legislation controlling its use, the first of which was passed in the late 1960s, but it wasn't until 1999 that a total ban was enacted in Britain. As a result, many of the classic cars we cherish could pose an asbestos risk.
To better control this potential danger, the Australian Border Force and its New Zealand counterpart have recently enforced a ban on the import of asbestos and asbestos-containing materials. Under these regulations, the border forces can also demand expert authentication that any car built before 2000 is free from the material. Should the owner fail to provide this, they can be fined several thousand dollars and their pride and joy will remain in customs until every part posing a possible asbestos risk has been tested and, where necessary, replaced. The process can be protracted, complex and incredibly expensive.
How much is your car to insure? Find out in four easy steps.
Get a quote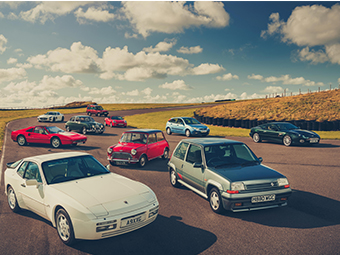 There is another way. David Sollis, an independent asbestos surveyor with 16 years' industry experience, has recently expanded his business – Survey Services Ltd. – to encompass his lifelong love of everything fun on four wheels. In doing so, he's become the only British surveyor to specialise in classic cars. "For several years now, I've been looking to combine my passion with my job," he smiles. "It really is a dream come true for me. It's great to be able to help people take their much-loved cars with them to Australia."
The list of car parts potentially containing asbestos is remarkably long, with David advising that friction components and items used to prevent heat transfer are some of the most likely to feature the material. "Clutches, brakes and heatshields are common culprits," he explains, "as are any number of gaskets. The woven rope seals on older cars, as found riveted to the firewall and radiator shell, are also often full of it, as are bitumen-based underseals." The list doesn't stop there, David having even detected asbestos in exhaust silencers and the pad below a windscreen washer bottle.
In order to carry out a full inspection, David compiles an extensive report on every car that comes to him. After placing the car in a dedicated sealed room, which operates under negative pressure and contains a two-stage airlock, he photographs every potential asbestos risk area on the car, takes a sample from each and sends them for laboratory testing. The process is involved and can require the removal of several engine parts and the swabbing of driveline oils to test contamination.
The results are then added to the report and the car's owner is given the choice of removing or replacing any components found to contain asbestos. Once the material has been removed and a replacement fitted, another round of tests is performed and recorded to ensure the offending areas are now clear of asbestos. Finally, the car is issued with a certificate of conformity and can be dispatched for shipping.
Such thoroughness is necessary to ensure a car passes the Australian or New Zealand border without problems. "To satisfy their law, a 'competent person' has to undertake the testing and certification," David explains. "It might sound daft but you can get it wrong. Without the right approach, asbestos removal can spread the fibres throughout a whole vehicle. The Aussies also insist that the competent person is fully accredited. Fortunately, the British UKAS accreditation scheme is approved by a mutual recognition agreement." In total, the process can take between one and two working weeks.
If we've got you staring at your classic, dreading a substantial future bill, don't despair. "If your car is being kept in the United Kingdom," David explains, "you can leave it as it is, unless you've reached the point where you might be disturbing an asbestos-containing component as part of a restoration." In addition, a limited selection of tasks – including some maintenance activities – can be legally carried out by private, unlicensed individuals. That said, the Health and Safety Executive advises extreme caution and suggests the use of a professional wherever possible. More information is available on their website.
Since establishing his speciality, David has worked on an enviable collection of classics. Highlights include an Iso Rivolta Lele, a Bentley Continental S3 and a Borgward Isabella coupé, while Jaguar themselves dispatched a recently imported E-Type to Survey Services for heatshield testing. "I get underneath and inside some really interesting cars," he smiles, "and that's a real privilege. These cars are their owners' pride and joys. That's why they're taking them all that way, after all!" Above all, David wants people to take asbestos exposure seriously. "People are very blasé about asbestos but those who work with it and live to 95 are the lucky exceptions," he says. "The last thing you want is to be killed by a bloody car!"
What do you think – should the UK government follow suit and ban imports of asbestos-containing vehicles? Tell us in the comments below.