Amelia Island was formerly a footnote in a busy auction season. Five or six years ago it was mainly about the concours, and RM's sale (which was the only auction Amelia weekend) seemed to adopt the concours' laid back posture as well. As recently as 2008, when the market was still very much in pre-recession mode, total sales were just $16.8 million. No more. With three high-end sales and a total of about $100 million in cars changing hands Amelia— although still a third the size in dollar volume—can now at least be mentioned credibly in the same breath as Scottsdale and Monterey from a commerce standpoint. Many would argue that in terms of enjoyment, it ranks at the top. The 2015 Amelia auctions may be remembered as some of the most interesting sales of the past decade. Here's the takeaway:
1980s and 1990s Cars Did Shockingly Well
How much is your car to insure? Find out in four easy steps.
Get a quote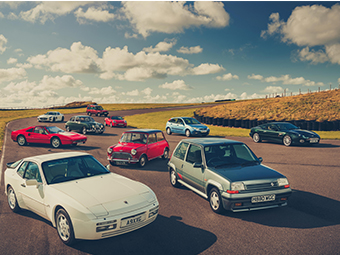 It has long been speculated that with the dramatic rise in prices of 1960s and 1970s Porsches and Ferraris, collectors would start to take a look at some of the more recent vintages, particularly as more late boomers and gen-xers get into the hobby. Amelia was certainly the coming out for these cars as sought after collectibles.
Air-cooled turbo Porsches and Ferrari 308s were particularly strong with a rare Vetroresina (fiberglass) Ferrari 308 selling for just under $200,000 at Gooding. A slightly later steel-bodied example sold for $115,000 at Bonhams. Air-cooled turbo Porsches were positively insane. A very nice 11,000 mile 1987 930 coupe sold for $220,000 and a 1988 "Slant Nose" Turbo cabriolet brought over $360,000. Both cars sailed past their pre-sale estimates. Later 964 and 993 Turbos from the 1990s were just as strong. It now seems that the value of any good 1990s 993 Porsche Turbo is north of $200,000. While it could be argued that these cars at these price points might be the most vulnerable in the next market correction, time is clearly on their side.
Pre-War Cars Aren't Dead
While most who have period memories of pre-war cars are dead, the market for the cars is anything but. After the 1990s, the pre-war market got very quiet, looking as though the cars were destined to sit behind velvet ropes in dusty museums. But the most interesting cars are now firmly on the radar of younger collectors who generally didn't grow up with them. While they were all but invisible in Pebble Beach and Scottsdale in August of 2014 and January of 2015, the ones that were there sold extremely well. Savvy Bonhams took note of this and consigned a large number of very good pre-war cars that had not been seen at auction recently. Six of their top ten sales were pre-war cars, something achieved by few non-Hershey sales in recent memory.
The Competition at the Top of the Market is the Fiercest that it's Ever Been
Bonhams, RM/Sotheby's and Gooding and Company were all represented at Amelia this year. It was Bonhams' inaugural Amelia sale. All did well but RM undoubtedly wanted to flex its muscles for its new 21% owners at Sotheby's and it did so in no uncertain terms, with $60 million in sales against just over $26 million from Gooding and $14 million from Bonhams. The fact that Bonhams could in its first sale come quite close to RM's 2008 numbers (when it had a monopoly) is a testament to an organization revitalized by David Swig and Jakob Greisen. It could spell trouble for the small independent Santa Monica, California based shop of David Gooding who now finds himself being pushed by two well-funded competitors. One has to wonder at this point if he isn't seeking a deep pocketed partner. His former employer Christies would be a logical one.
The Top of the Market Appears to be Cooling Off
Choose your reasoning, whether it's the prospect of rising interest rates or a Euro in a free fall, as predicted, the very top of the market seems to be in no mood to overpay for anything. The car that might have been expected to be the top sale of the weekend, a 1956 Maserati 200 SI once driven by Sir Stirling Moss who was there to get bidders excited. It didn't happen. The car was bid to $4.7 million where it was a no-sale. Fewer European buyers and the fact that the car was a four-cylinder car rather than the usual Maserati six might have held things back. Another significant race car of the era, a 1955 Jaguar D-type on sale at RM sold, but near the low end of the pre-sale estimate. Other lots with $3 million plus estimates sold from the low to middle of the range of their pre-sale estimates or were no-sales over the block, only to sell later at prices that were at best market-correct.