You can probably place most bikers' age by the bikes they mention, the things they've done on them, race riders names, and the general lament they utter at the machines they wish they'd kept.
Fizzie, Fireblade and Freddie; riding to the south of France and Spain on his modern bike; a frown at the thought of selling his DT125. That makes Andrew Page about 50.
How much is your car to insure? Find out in four easy steps.
Get a quote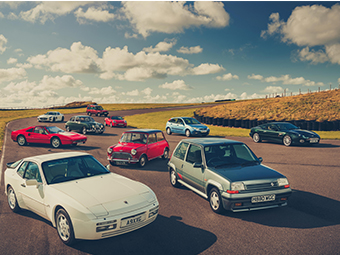 "I'm 50," he said.
Told you.
His first bike was a Yamaha FS1-E, he's also indulged in a 1981 Honda CB900F, and that's currently being turned into a Freddie Spencer replica with Fireblade front and back ends.
But that's where the alliteration stops and we visit some other sections of the alphabet – BMW, KTM and XS. Adding to the Yamaha alphabet, he's also had that DT.
Andrew is a corporate and commercial lawyer with Cheshire firm MLP Law – more alphabet – and like many professionals who suddenly find themselves with a few quid spare to indulge in catching up with the things they missed out on in their past, Andrew bought a BMW R1100S when he was 39. The FS1-E has been in the family since new with Andrew buying it from his brother in 1984 for £50.00.
But like many professionals who find themselves with that spare few quid, he also finds that he's actually pretty time-poor when it comes to enjoying them.
"I now know my limitations. I tinker, I dismantle, and then I take them to Andy Haworth at Mollsprings in Honley, West Yorkshire, and he puts things back together," said Andrew, from Cheshire.
"He's currently doing that with my FS1-E, but my CB900 Freddie replica is maybe a year or so off completion."
"My XS750 isn't even on the radar yet."
It's Andrew's BMW which is currently keeping Andy busy. As is so often the case with classics, the headscratching is currently all about why the immaculately turned-out and engineered 1981 R100RT tourer-turned-cafe-racer/track-bike (yep, you read that right…) has mysteriously declined to offer spark to fuel in combustion chamber.
"The BMW is really a track plaything. I originally built it for the Bikers Classic at Spa – which is for 1981 or older bikes – and I tend to stick to track use although it is road legal," said Andrew.
"It started out as a 1981 R100RT. The big fairing had been taken off, it was sprayed white and wasn't running. The last MOT stated 106,000 miles."
"I took it to Mal at Metal Malarkey in Shropshire who built a new rear subframe, foot pegs and fitted a Norton Dunstall fairing. He also repositioned the tank so it sits higher at the rear."
"It was then stripped completely and re-built by Andy at Mollsprings."
Here's the technical bit: 1070cc Siebenrock big bore kit; Heads gas flowed and twin-plugged; 38mm Dell Orto carbs; Kibblewhite valves, springs and valve guides; BMW Sport 360 camshaft; Crank and clutch balanced; 5% higher fifth gear; Oil cooler and sump ring to increase oil capacity over 5 litres; Uprated electronic ignition; Front fork brace; Maxton fork cartridges; Maxton rear shocks; Exhaust fabricated by Quill; Paint is by Pete at Priest Bike Paint in Altrincham.
"It puts out about 80bhp at the rear wheel, which is plenty."
And Andrew knows what "plenty" equates to: his daily-ish bike is a KTM 1190 Adventure which he's ridden as far north as Ullapool, and as far south as the tip of Spain, often to go hang out at races including Moto GP.
"If I define myself, then it's that I don't have as much time to ride as I would like. I'm probably representative of many in that ironically I make up for not having enough time to ride by acquiring more bikes that need more work," he said.
"But I'm going to keep them. Like many, I lament the bikes I've sold and wish I'd kept them, because they're going to be three times as valuable before much longer."
His bike work list is formidable: his planned Freddie Spencer replica CB900 will have a 985cc kit, Fireblade upside-down singing arm, Fireblade forks, sleeved-down twin Weber 40s, 180 section back tyre.
The 1972 FS1-E – which is a frame and wheels at the moment – is painted Candy Gold, converted to 12-volt, and will have an Allspeed expansion chamber. It has only 7,000 miles on it, although "only" could be subject to interpretation relevant to the engine condition given the then seemingly GP rider aspirations of teens of the day.
While I'm grabbing some images of the collection – and Andy Haworth's other wide-ranging stock of mouthwaterers ranging from RD350s, to Triumph triples, a Morris Marina, a Gold Wing trike roughly the size of a bin truck, MZs and CZs, and all manner of other goldmine classics – I notice the pair of them floating outside.
And I could have sworn there was some discussion about another acquisition.
After all, Andrew Page is working his way through the alphabet – and there's a lot more letters in there to be ticked off.