One of the best things about my role as Hagerty's Online Content Editor is the freedom I am given. As a classic car enthusiast and writer, my brief from day one was simple: translate the passion you have into great content and find others who share this love of historic motoring. "We'll worry about the classic car insurance," I was told. "You just tell the story."
Over the last few years, we've had some great regular contributors to our online magazine. Sam Skelton has frequently entertained us with his unusual perspective of elements of the classic hobby that are so often overlooked, from car keys to naming your motor. Andrew Roberts, and later Paul Stassino, have both provided some interesting 'Top Tens', from African cars to Vauxhalls. Actuarius has given us some great stories and superb photographs.
How much is your car to insure? Find out in four easy steps.
Get a quote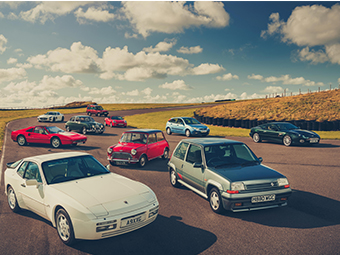 For 2018, we're building on this foundation and welcoming some new great talent. If you're on DriveTribe, you'll probably know The Toms: Tom Duke and Tom Aiton, two of the hottest automotive content creators in the UK today. Hagerty have worked with these guys before – our great new website banner photos are their work – and in 2018 they will be creating unique photo stories and videos for us.
Nat Twiss is a superb automotive photographer who will be a regular Hagerty contributor for 2018. You may have seen his work for Petrolicious and in various print and online magazines. Gary Axon will be well-known to many readers from his Goodwood GRRC articles, and Greg Dowswell and Max Taylor from Zanewell Media will be continuing their visually compelling video work like the Festival of the Unexceptional film they created for us in 2017.
We'll also be bringing you more of what people have told us they love about our content. There will be market news, letting you know the big stories about classic car values and the Hagerty Price Guide. After the success of our recent Mileage Challenge, we've also decided to bring you a regular insight into what members of the Hagerty team are up to. There will be interviews, behind-the-scenes videos, Automumble discussions, road tests and more; all of it will be original content, and all will be free to access: all you have to do is subscribe here.
So, thank you for enjoying our content in 2017, and I look forward to showcasing our new line-up in the January newsletter.