Why is Jensen's muscular GT so popular with Hagerty staff on two continents?
The Jensen Interceptor is not a common car. Fewer than 6,000 were built between 1966 and 1976, mainly by hand in a rather small factory in West Bromwich, an industrial Midlands city that sits in what was once the heart of the British auto industry. They were exported around the world and the best guess is that around 50 percent of the Interceptors built survive.
How much is your car to insure? Find out in four easy steps.
Get a quote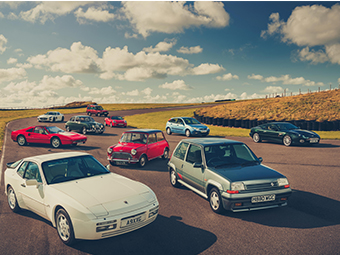 Hagerty is a relatively small company of just under six hundred employees, with offices in the U.S., Canada, the UK, and Germany. Statistically speaking, the intersection of Hagerty employees and Jensen Interceptor owners should be less than zero. Strangely though, there are three Interceptors owned by Hagerty employees on two continents. It's an odd phenomenon worth investigating.
The investigation begins with me, a two-time Interceptor owner. I am drawn to Interceptors because they're good-looking, uncommon, powerful and cheap. The styling by Touring of Milan can be off-putting to some, but I've always loved it. The memory of a kid with whom I played ice hockey getting picked up from practice in one and heaving his equipment bag into the boot with that giant expanse of glass was imprinted on me at an early age. Not long after, I got a Dinky Toys Jensen FF diecast model, which has, it turns out, proven to be the gateway to full-sized Jensen ownership for more than a few people over the years.
At around the same time, a Jensen dealer opened up in St. Louis, Missouri, where I grew up. It was called Checkpoint America. For "volume" sales they also handled Jensen-Healey, Lotus and TVR. Not surprisingly, the dealership was tiny. But it was on a route that I regularly traveled with my mother and one day, I somehow managed to convince her to stop and go in. I still remember the contents of the showroom — a yellow Interceptor, a tangerine Jensen-Healey and a silver TVR 2500M. My mother expressed some genuine interest in the Interceptor and we left with a sales brochure that I have kept to this day.
My dad always loved British cars but his patience was being tested by a horrifically unreliable Jaguar E-type SIII. He was smitten by the Jensen's lines and sumptuous interior and I sensed he was going to pull the trigger until a Porsche salesman made an off-hand but calculated remark about them: 'You know, there's a reason they all come with fire extinguishers in the boot'. My dad bought the 911.
Time in an Interceptor for me would have to wait until 2011, when I found a white one online in dry Tucson, Arizona. I bought it and it became the subject of a rather madcap cross-country journey on America's famous Route 66. The woefully ill-prepped Jensen broke down nearly every mile for the first few hundred before becoming satisfied with simply trying to asphyxiate the drivers with the raw gasoline fumes from a perished rubber filler neck hose.
I soon sold it to another automotive journalist (who flipped it for a Bristol of all things) and I was an ex-Jensen owner for about two weeks, unti another rust-free car (in a very handsome dark maroon called 'Cerise') popped up online for very little money.
A California physician had been the original owner, and the second owner had rejuvenated everything the good doctor had worn out, including paint, engine and transmission, before selling it to a gentleman from Minnesota. While he only seemed to have driven it about 500 miles, he did let nearly every piece of lawn furniture in his garage fall on the poor car during storage. Now with new paint, recommissioned brakes and new wiring, I am currently enjoying its charms in ways I never did with the white car.
Why all of the fuss over an obscure footnote in British motoring history? The Interceptor made an impact on me during my childhood. It always struck me as an American muscle car with bespoke British quality, Italian style, real brakes and decent handling — not unlike an Aston Martin V8 Vantage for the financially challenged.
Although we grew up a half a world away, a Dinky Toys Jensen FF was also Hagerty International Managing Director Angus Forsyth's favourite diecast car. These days, his imposing black Interceptor is an early example with its low front bumper and indecipherable but gorgeous Italianate dash and switchgear.
The car seemed well-sorted — until the Chrysler automatic gearbox began to act up. Fortunately, the options were not terribly expensive. 'I could have sourced an off-the-shelf rebuilt unit rather inexpensively', Forsyth says. 'But my mechanic convinced me to rebuild the original unit. It only cost a little bit more with the parts dispatched from the U.S.'
Like myself, Forsyth is famously a bit of a James Bond fan (we disagree frequently on the merits of Roger Moore — he's pro, I'm con). To both of us though, the Interceptor seems like the car that Bond should have driven. Neither of us would have imagined when we bought our Interceptors that there would be an eventual Bond connection. It was Forsyth who took glee in informing me three days after I sold my first car that it had been chosen as Bond's new motor in the series of James Bond novels written by William Boyd.
'I'm particularly fond of the way it performs on the country roads near my village', says Forsyth. 'It's big but not too big that you can't place it accurately in a corner. Put your right foot down and it pulls like an express train. Acceleration from 40 mph to 70 mph is quite vivid and although the Chrysler autobox only has three ratios, you're really not very cognizant of when it's changing. Quite an impressive bit of kit considering it doesn't have eight speeds and it was designed in the early 1960s'. I expected the worst from 6.4 litres in terms of petrol costs and by and large it hasn't disappointed at around 10 mpg. But in reality, it's not much worse than my E-type V12'.
Kieron Lake works in Hagerty's legal department at its headquarters in the U.S. state of Michigan, but he's an ex-pat Brit who moved to the U.S. after meeting his future wife. Unlike Mr. Forsyth and me, he's in his thirties and had never seen an Interceptor as a child. Nonetheless, he bought a rare RHD Mk I Interceptor in the States about two years ago. Lake explains: 'I had never been a "car guy" in the past, other than having affection for certain more recent marques and models that I lusted after but thought they were out of reach financially. When I came into a little money after I sold my London apartment after relocating to the U.S. I wanted to invest in a classic but one that was a little more unusual, a little showy, and something which reflected on my identity and background as an Englishman abroad.
'Browsing the local online postings I found out about a Mk II Jensen Interceptor nearby which made reference to it having British heritage. I'd never heard of that make before; the company went bust in the year after I was born, but the Interceptor model seemed to perfectly reflect on my own characteristics and hybrid circumstances: European flair and British steel but powered by an American motor. I hesitated too long so that car was sold elsewhere, but I had found the object of my desire and started pursuing others more vigorously.
'I then came upon a listing buried on a personal website for a very rare 1967 model that was right-hand drive. I found it Saturday lunchtime and had a very nervous two days until the owner returned my call on Monday morning. I paid a deposit immediately and settled the remainder within a week or so once my money was wired in from the UK.
'Owning my car has meant so much personally. I feel attuned to the car because we're both "imports" and we've both "walked" the same streets of London in the past, so there is a familiarity there from shared experiences, however odd that may sound. I won't deny also that by virtue of the shared 383 engine it helped create a bridge with my Dodge Charger-owning conservative father-in-law, who was probably a little bemused by the appearance of a liberal foreigner in his family. All that sentimentality aside though, it still just "hauls ass" too, which is the greatest American saying I've learned since acquiring it'.
While the odds of finding three examples of a rare British car in one relatively small company are difficult to understand, the appeal of the Interceptor is not. In this case, for three aficionados of Italian style, British coachwork and American muscle, that appeal spans two generations and two continents.