I've spent most of this month driving a Citroen CX Pallas. Sadly, it's not mine. It's been divisive, most of my friends loved it, but I've had some strange reactions too. The MPV full of young men making obscene gestures on the A421 two weeks ago deserves a special mention here – as does the bravery of its driver in putting his foot down and running away. But so does the reception it had at the Tatton Park Classic Car Spectacular – where it caught many an excited eye.
I've enjoyed my time with it so much I'm secretly trying to make the friend who owns it relinquish the keys on a more permanent basis. I love the fact that it seems to render other cars – including its eventual replacement, the XM – obsolete. Details like non-cancelling indicators and self-centring steering make so much sense you never want to return to mundane, conventional controls. It's not even as ambitious as it should have been; the three-rotor Wankel it was meant to have got binned in favour of the aging DS lump because Citroen ran out of money. Contrary to popular belief I am thrilled by innovation, I like things that are genuinely new and exciting – and the CX embodies that completely.
How much is your car to insure? Find out in four easy steps.
Get a quote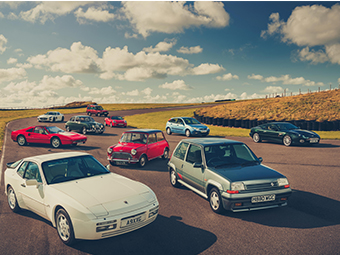 This was a car from the same era as Concorde; when the world was striving to make advances in every field of engineering, and transport naturally felt the benefits. Advanced technology isn't the only parallel we can draw between the CX and Concorde, either. Both had money troubles; Concorde failed to make a profit, while the proposed rotary drivetrain for the CX sent Citroen into its second period of bankruptcy. Concorde was bailed out by state-owned airlines buying aircraft at a discount, Citroen was rescued by competitor Peugeot. And there's more.
Another journalist once questioned the real reason why Concorde was never bettered. Was it that we couldn't go faster? Or was it that, in the digital age, it was too slow? Why would businessmen pay extortionate sums to fly halfway round the world in record times for meetings, when instant teleconferencing and video calls exist? Without that clientele Concorde would have been doomed to failure – in its latter years fewer and fewer people were booking seats. And why would holidaymakers need the performance? A 747 was cheaper, so that's what the Joneses from number 62 booked for their flight to Alicante. In short, our need for advanced transport diminished.
I think that's why the CX was a blind alley too. Because life changed during its production run. The world is forever becoming smaller, with new technologies conspiring to make our lives easier. The consumer had no need for a technological tour de force by 1990; and much like with the world of aerospace cost became the overriding factor. This is why the MK5 Escort exists. Because there was less we needed to do with our cars, there was less need for innovation and the accompanying cost. Even now, the few who are ambitious appear doomed to failure.
In a world where we have Skype, eBay, Ocado and lots of other technology designed to bring the world into our drawing rooms we have no need for technological innovation in our cars. And why would we pay for unnecessary developments when all we need are boring cars to drive to work and back? The Toyota Mirai is a perfect case in point; the UK's first hydrogen powered car is a genuine step into the future, but at £66,000 people will keep buying diesel Golfs instead. And what of once-innovative Citroen? Well, the biggest recent innovation has been Aero-shaped rubbing strips down the sides of the Cactus. Oh, and the DS range – funky cars, but with no real technological substance.
We cannot predict what will happen in ten, twenty, thirty years' time. When we do, we picture something elaborate and sci-fi driven, which is not only inaccurate but it misses the revolutions which change life beyond recognition. In 1976 nobody saw mobile videoconferencing, nobody saw the way computers would take off, and home food deliveries were limited to Meals on Wheels for the elderly. The world in 2016 is very different to the world of CX and Concorde, and Back To The Future II showed us precisely how wrong a vision of the future can be. For a start, it predicted that hydropneumatic Citroens would become prevalent, and the concept is almost a decade out of date. Meanwhile, I'll keep enjoying this old CX for as long as I can. It used to be the future. But the world never left the past.