2012 Historic Festival promises world class action at affordable prices, with new Touring Car class and return of too-fast- to-race "Killer B" Rally cars

Proof that a really good idea can take off received a solid endorsement in 2011, and the second annual Donington Historic Festival is set for 5th and 6th May 2012.
Advance tickets are the same prices as last year, and family members under 16 will admitted free. But to help car club members to turn out in force, there's a two-for-one advance ticket deal for registered clubs.
How much is your car to insure? Find out in four easy steps.
Get a quote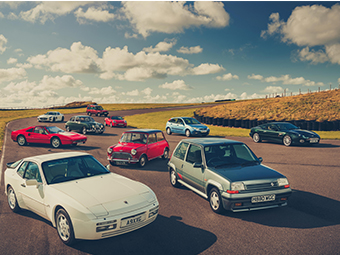 More than 20 car clubs have already signed up, from the Bentley Drivers Club, Club Lotus, Ferrari Owners' Club and Jaguar Drivers' Club, to the Morgan Sports Car Club, Porsche Club GB, Rolls-Royce Enthusiasts' Club and the TR Register. This gives their members two-for-one tickets — plus a free car pass to Donington's infield parking, where the clubs can form a great display. The full list of registered clubs can be found at www.doningtonhistoric.com and, if yours isn't among them, get in touch with your officials.
Originally part of the Donington Hall estate, the 12-turn, 2.5-mile Donington Park track was created in the 1930s, when the German Silver Arrows were battling for the European Championship. Used as a military vehicle storage depot during World War II, it fell into disrepair until bought by Tom Wheatcroft. Wheatcroft's son Kevin reopened the track for racing in 1977.
Judging by the inaugural Donington Historic Festival in 2011, the on-track action should be fast and exciting — from the 'Mad Jack' for pre-War sportscars, through the sportscars and sports-racers of the 1950s and 1960s, to the E-type Challenge, Historic F2, Touring Cars (both pre-66, and 1966-85), not to mention the always dramatic Group C sportscars. Take a peek at the 2011 video gallery, where you'll find a mix of racing action, club gatherings and on-track parades.
2012 Racing action

Donington will host the first ever race of a new series for 1977-85 Touring Cars, to be called the JD Classics Challenge. The series will be for Groups 1 and 2 plus Group A Touring Cars, such as raced in the British and European Touring Car Championships between 1977 and 1985: the time of TWR XJ-S and BMW 528, Alfa GTV6, Audi Coupé and Ford Sierra XR4i, piloted by such stars as Win Percy and Andy Rouse.
The feature race on Saturday evening will be a 250km, two-driver endurance race for sports prototypes from the World Endurance Championships from 1968-71. In addition — and thanks to Group C Racing — the 1980s Group C cars will be battling it out on track at the Festival. Plus there will be pre-63 GT's, Formula Junior, U2TC, along with the Stirling Moss Trophy, Royal Automobile Club Woodcote Trophy, and the Motor Racing Legends Pre-War Sports Car Series.
The latest highlight for the event is the 'Mad Jack' — named in honour of Richard 'Mad Jack' Shuttleworth, the pre-War racing driver famous for his daring exploits in both aeroplanes and cars, and the winner of the first ever Donington Grand Prix, in 1935. The 'Mad Jack' will be a 45-minute, two-driver race, for cars such as 8-litre Bentleys, Type 35 Bugattis and Alfa 8C Monzas, Aston Martins, BMWs, Talbots and Frazer Nashes.
Rally action

The festival will also see the return of the legendary Group B rally cars, the iconic 'too fast to race' rally machines. From 1972 until the 1990s, Donington was used, on and off, as a stage on the annual RAC Rally. Group B rally cars allowed unlimited boost, along with low weight and high-tech materials. The result was staggering performance, and in 1986, a series of fatal accidents saw the sudden withdrawal of Group B.
At the festival, a line-up of original works rally warriors will be put into action by the 'Rallying with Group B' club members, reviving the fire and fury of these spectacular machines. Look for Audi Quattros, MG Metro 6R4, Ford RS200, Lancia 037, Porsche 911 RSR, Peugeot 205 T16 — and even a Group B Ferrari 308 GTB. The rally cars will race on a specially designed, all-Tarmac stage on the GP loop.
Add to all this special packages for car clubs, a superb location — and the fact that each entry ticket gives two-for-one entry to the on-site Donington Grand Prix Collection during the Festival weekend and for the following two months — and the Festival promises to be a highlight of 2012. See www.doningtonhistoric.com for more details.
2012 advance ticket prices

Saturday 5th May – £18 (£25 on the day); Sunday 6th May – £18 (£25 on the day); Weekend ticket – £30 (£40 on the day); Children under 16 – Free. Plus two-for-one ticket deals for registered car club members. Tickets can be bought via the website and through the 24-hour ticket hotline 0844 873 7355.