As 2019 and the 'Teens' decade rapidly draws to a close, not having to set the alarm too early on these chilly winter Sunday mornings to scramble to the latest classic car 'breakfast club' style meeting at Bicester Heritage, Goodwood, Shelsley Walsh, Brooklands and so on is light compensation for the vast number of interesting, enjoyable – but sometimes relentless – classic car shows that now thankfully take place across the UK and Europe on brighter days.
As 2019 fades into our memories, as a devoted car enthusiast, I can look back on the many motoring events I attended over the past year with very fond recollections; seeing some exceptional vehicles, meeting a great bunch of like-minded motoring enthusiasts and friends, old and new, plus visiting some outstanding venues and driving some great cars.
How much is your car to insure? Find out in four easy steps.
Get a quote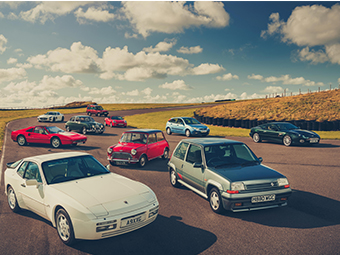 With some important automotive anniversaries being celebrated throughout the year – including centenaries for Bentley, Citroen (a personal favourite) and Zagato, plus 60 years of the Alec Issigonis' ground-breaking Mini – the prospect of some intriguing classic car content was well assured.
My personal motoring adventure for 2019 began with a dilemma on the first day of the year; which of the many News Year's Day classic car meetings to attend. Having been to Brooklands, the Ace Café and the excellent Stony Stratford Classic Car Festival on 1st January in the past, I chose to head to the south coast to take in the special Classics on the Prom meeting in Bournemouth, with some bracing sea air and sunshine to help clear the head, plus a good selection of classic cars to admire.
Just a few weeks into the New Year, and early February brought one of the classic car world's annual highlights; the first-rate Retromobile salon in Paris; an absolute must for any petrolhead, enhanced this year for me by a memorable display of Citroens to mark the Parisian marque's first 100 years. A trio of ultra-rare Scuderia Serenissima sports cars at the Retromobile auction was worth the trip alone to see as well.
Closer to home, Race Retro at Stoneleigh a few weeks later was enjoyable for different reasons, with some great live-action dynamic classic rally car runs, plus some interesting vintage Bentley displays and a great chance to bump into fellow car friends.
Early March saw a return across the Channel to visit two consistently enticing classic car events; the Antwerp Classic Salon in Belgium and the Reims Salon Champenois du Véhicule de Collection, the wonderfully-French latter show potentially being the last in its long-running format due to part of the exhibition centre where it is held being bulldozed to make way for affordable housing. Unsurprisingly, Citroen's centenary featured strongly at this pair of Continental events, with plenty of models on display rarely seen in the UK.
The Restoration Show at Birmingham's NEC in late March was better than ever, and worth missing the huge but tiring German Techno Classica in Essen for, which also clashed with Goodwood's 77th Members' Meeting; one of the world's finest historic motor racing events. I do plan to visit Essen for 2020 though as this large show is well worth the journey once every few years.
In between some interesting regional classic car shows, local charity gatherings and specialist car meetings – including a busy Brooklands Italian Car Day and combined British Citroen car clubs centenary celebrations in Coventry – a couple of Bicester Heritage Scrambles and Goodwood Breakfast Clubs made the early Sunday morning starts more than worthwhile.
Goodwood later played host to sell-out Festival of Speed crowds once more in early July, all keen to see the latest Formula 1 racers, supercars and significant competition cars and motorcycles in action up the famous hillclimb. My personal involvement in shaping this year's Cartier 'Style et Luxe' Concours d'Elegance and Pagani 20th anniversary hypercar celebrations made for a busy but rewarding Festival. A warm weekend of Mediterranean sunshine judging at the charming Valletta Concours d'Elegance afterwards in Malta made for a welcome and more relaxing break, as did the Thames-side Ferrari Owners Club Concours just outside Marlow.
Hagerty's own ever-popular (and ever-growing) Festival of the Unexceptional in late July was the largest and best-attended to-date, with a new venue and plenty of 'exceptional' unexceptional cars to judge and admire; a late-1970s base Morris Marina Estate being awarded the prestigious 'Best of Show' this year; fighting tough competition from around 50 other under-appreciated vehicles, including a new class of cars celebrating anniversaries in 2019, such as 50 years of the Austin Maxi and Fiat 128, and 40 years of the Vauxhall Astra.
The car park of enthusiastic 'Unexceptional' visitors was an event in its own right, and one of the real highlights of my classic car year; a Brazilian-built Alfa Romeo 2300 (the first I've ever seen in the metal) being a personal highlight, along with an immaculate Fiat 132 and Talbot Tagora (when did you last see one of those?).
The enormous Silverstone Classic the following weekend seemed a little predictable by comparison, although the all-Mini 60th anniversary race was particularly entertaining.
A few weeks on, and frustratingly unable to spare the time to get over to the annual Pebble Beach Concours in California, our own early September 'British Car Week' kicked off in style with the increasingly important and professional Salon Privé at Blenheim Palace, quickly followed by the Hampton Court's Concours of Elegance, the must-attend Beaulieu International Autojumble, and culminating with the thrill-packed 2019 Goodwood Revival, all bathed in glorious late summer sunshine, as was the 'season' closing Kop Hill hillclimb meeting.
By the time The Warren Classic in Essex and highly-recommended Zoute Grand Prix and Concours on the Northern Belgian coast (plus the large AutoMedon classic show held the same weekend near Paris) got underway, the blue skies had turned to grey, with rainfall aplenty. The Continental events were still worth visiting though, with an outstanding variety of cars on show.
A hectic but entertaining 2019 was rounded-off with that perennial favourite, the huge NEC Classic Car Show in November, swiftly followed by the relaxing InterClassics event in Brussels the following weekend, where many first-rate (but pricey) used classics and tempting automobilia could be found for sale.
That rapid romp through just a few of this year's classic car highlights has already given me an appetite for more, so here's looking forward to many enjoyable classic motoring and events in the coming new decade. Hopefully I'll see you at some of these to share the fun. Have a Very Happy New Year, and a great, classic 2020!
What was your motoring event of 2019? Tell us below!