2016 has been another fascinating year in the UK classic car market, and 2017 is shaping up to follow the same trend. We asked a number of classic car valuation specialists how they expected the market to develop over the next 12 months. These are their replies.
Rob Johnson, Classic & Sports Finance
How much is your car to insure? Find out in four easy steps.
Get a quote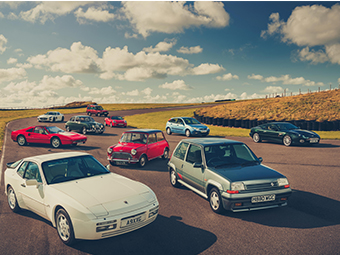 In terms of general market trends, we think that good affordable classics will continue to rise in value. 2017 will be all about diversity and we think that the big collectors will have a bit of fun next year taking a punt on various models to see if they will increase in value. This behaviour is more to do with playing the market for fun rather than investment potential. We also believe that most of the enthusiasts who have the wherewithal to buy cars at £500,000+ have already made their purchases in that price segment so will turn their attention to upgrading to the best of the best if they get the opportunity or look at the more affordable end of the market – hence the potential for increasing values in that market.
We have seen a lot of activity in the pre-war sector in 2016 and believe this will continue as many of these cars are truly interesting and represent good value for money. We also believe 10-20-year-old cars will see a rise in interest.
Russ Smith, Valuations Expert at Classic Cars Magazine
It's hard enough trying to predict what the market's going to do next week, never mind next year. Having said that, a couple of things seem quite clear: the age of the modern classic is upon us. We're not only going to see a higher proportion of 1985-2005 cars coming to auction, but I can see the prices for good low-milers continuing their upward trajectory. What exactly the new stars are going to be has yet to be established, however, as this is an immature market still working out what its heroes and pecking order are. So, interesting times with German marques like Porsche and BMW making the early running.
At the other end of the scale, many pre-war cars are likely to see further falls. I'd exclude the pinnacle collectables like Bentley tourers and teardrop Talbot Lagos, possibly Austin Sevens too, bizarrely. But the novelty of cars that are uncomfortable to drive on our busy roads and remembered and understood by fewer and fewer people is steadily wearing off. And sadly, their owners are dying off quicker than new ones can be found. 'Deceased estate' and 'No reserve' are becoming all too common co-entries alongside a lot of pre-1950s cars, so basic market forces come into play. It might mean you can pick up some bargains, but they won't be investments.
For that you want to buy good low-mileage Alfas when they are in their cheap phase between second hand and 'where did they all go?' History tells us they always rise significantly in the end, with a large and enthusiastic following. And the brand itself has in recent times been successfully re-established as more than just a Fiat offshoot with pert grilles and slightly higher prices.
Damian Jones, Sales Manager at H&H Classic Auctions
I think we are all agreed that the collector car market softened during 2016 (a trend which began in 2015). That said the downward trend in prices has not been universal. Modern, limited edition hypercars such as the Ferrari LaFerrari are still comfortably exceeding their original list prices, while at the other end of the scale the interest shown in Land Rover Discovery MK1s is definitely on the rise. Cars eligible for the world's greatest and most prestigious historic events remain in strong demand as do those that have been exquisitely restored or are exceptionally original. Collectors are happy to pay a significant premium in order to 'jump the queue' when it comes to acquiring a car that has been meticulously (and very recently) refurbished by a world-respected marque specialist. Similarly, they will dig deep to secure an example of a desirable car that retains all its factory spot welds, chalk marks and nuts and bolts etc almost regardless of how decrepit it has become.
A softening market encourages conservatism among buyers who tend to favour collector cars with a proven 'evergreen' appeal hence perhaps the re-strengthening of Jaguar E-Type prices during the back half of 2016. The exception of course is the lure of the 'green shoots' growth promised by modern, limited edition hypercars. For 2017, the collector car market looks as if it will still favour buyers rather than sellers unless a seller is putting a 'best of the best' machine to market for the first time. From a long-term perspective, the 'correction / re-balancing' of collector car prices during 2016 can be seen as the sign of a healthy and sustainable market with a mature set of checks and balances.
Frank Wilke, Classic Analytics, Germany
I expect the 'best of the best' cars will continue to achieve top prices. In Europe, we will see the big auction houses try to offer fewer but top quality cars to their customers. The focus of collectors will be expected to fall on sports- and supercars from the late 80s to early 2000s (LaFerrari etc.). This means relatively new cars may be considered as achieving a 'collector cars' status- for example after only 5 years the BMW 1-series M Coupé has returned to its original list price. People are willing to pay high prices for "hot hatches" (Golf GTI, Escort XR3i) in really exceptional condition. Brexit has had no obvious impacts (either positive or negative) on the German market yet.
John Mayhead, UK Hagerty Price Guide Editor
More modern classics (from the 1980s to the mid- 2000s) seem to be ruling the roost at the moment and I expect this to continue. Collectors want low production number sporting models from high quality manufacturers. They also want the very best cars, so low-mileage, original, excellent condition cars of almost any make and model are doing particularly well. Performance variant Porsche 911 (996 and 997) still feel undervalued, as do Aston Martin DBS, V8 and DB7. AMG Mercedes are currently right at the bottom of their price curve and tick all the right boxes as potentially appreciating classics.