2016 saw Hagerty become the title sponsor of the HRCR (Historic Rally Car Register) Clubmans series, a championship that consists of 13 single-day road regularity rallies. The sponsorship included participation in as many rallies as we could enter, so Hagerty decided to enter a staff team in every event. I was fortunate enough to be able to leave my desk as a client service advisor and drive in five rallies throughout the season.
The events are decided on a combination of tests. Some are held on private land where the goal is to go as quickly as possible around a course laid out with cones, with time penalties awarded for any that are struck. Others take place on the public road, where you are given a set of instructions that you must translate into a plotted route that must be navigated at a set speed, monitored by marshals at previously- undisclosed checkpoints.
How much is your car to insure? Find out in four easy steps.
Get a quote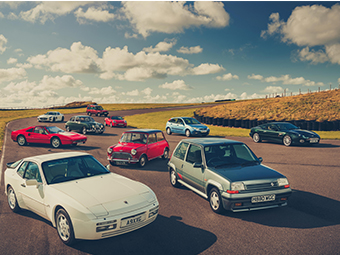 This was to be my first year of competing and Hagerty paid for my MSA license, an essential requirement of the Clubmans series. Throughout the season, the Hagerty team used a 1972 Ford Escort that was very kindly donated by a Hagerty policyholder who was keen to see his car used in action! It was my kind of ride: I am a Ford Escort Mexico owner.
My navigators for the various rallies were a mix of Suzanne Barker, her son Tyler and the very experienced Andrew Duerden (who was also to join me on the much longer RAC Rally of the Tests in November).
My first event was the south Wales-based Leukaemia Rally in April, which started and finished at Chepstow racecourse. The day passed without any major problems; Suzanne and I made it through the whole day without missing any of the controls and we completed all of the tests without any faults. We came away 25th out of 51 finishers and 6th in class, so I was more than happy with that!
My second event was the East Anglian Classic which took place near Stansted airport. Again I was joined by Suzanne, and we had another steady event apart from one little misdemeanour due to following a railway line on the map instead of a pencil line! The tests for this rally were held at an airfield at MOD Wethersfield, and we finished 22nd out of 31 finishers and once again 6th in class.
Rally number three took me to the Vale of Clwyd Rally in north Wales, near Mold, this time partnered by Tyler for the first time. The weather was challenging with a lot of rain which made the test venues very slippery, especially the two held on grass fields. Still, I was happy to see myself setting the 4th and 7th quickest times on these two tests. The other test venues were a mix of a cattle market, farmland on and off road, and one of the tests even had a Spitfire we had to go past!
It was a real shame the weather was poor as some of the views we glimpsed through the low cloud were spectacular and I can only imagine how good they are on a clear day. We came away from a tough event 40th out of 53 finishers and 3rd in class.
The HERO Challenge near Evesham in later September was to be my fourth rally and my first with Andrew Duerden. This was also to be our shakedown for the RAC Rally of the Tests.
Again, the tests were held on an airfield which we visited three times between the regularity trials. The morning passed without too many problems despite the odd bit of traffic that lost us some time, however that afternoon, deep in the Cotswolds, we found trouble. I approached a ford, I knew it was going to be deep as the event photographer was positioned nearby but we still underestimated its depth. We entered the water with more of a belly flop than a graceful dive, causing the engine to die in the middle of the crossing. Thankfully after a few seconds it sprang back to life, and pulled us clear of the water. We came away from this rally with 24th/ 40 and 8th in class, but the big surprise came when I was award with highest placed newcomer to a HERO rally, my first trophy from a rally!
My last HRCR rally was the Devils Own Rally in Cumbria. This was different to the others, starting at lunchtime and running into the darkness- the first time we had competed at night. The first section was going well until I managed to dislodge the exhaust back box during a forest regularity section, leaving the exhaust scraping along the floor until we were able to stop and make a temporary fix to stop it dragging.
All of the tests were done in the daylight half of the rally and were mainly twisty technical tests, but for some reason I just couldn't get into a rhythm and they just felt messy and slow.
The second half of the rally was where the event came into its own: four regularities in the South Lakes, near to Windermere, all completed in darkness. Much more concentration was required compared to any of the daytime driving, but it was so much fun and there was a buzz at the finish from all the crews. We came away from the event with 30th out of 44 finishers and 3rd in class.
There are so many moments from the season that are vivid in my memory, but the one thing I have taken away is how friendly everyone is on the events and how they all want to see everyone complete the rallies and will help out where ever they can.
Once the HRCR season was complete I just had one more event to do, the HERO RAC Rally of the tests, 3½ day 750-mile rally from Bournemouth to Chester via Bristol and Stoke, but that is another story in itself!
If you would like to find out more about the Clubmans series and what else the HRCR has to offer see including its scenic tours series visit www.hrcr.co.uk
Tim Sawyer is a Hagerty Client Services Advisor and one of a number of Hagerty staff who took part in this year's Clubmans Series.