We've had a lot of exciting anniversaries during 2015. The Metro turned 35, the Stag turned 45, the humble Montego Turbo hit thirty and classic life can begin for the forty year old Leyland Princess. And then there are the two big hitters – the Ford Transit which mobilised Britain's deliveries and the Rolls-Royce Silver Shadow which mobilised Britain's social climbers. Unsurprisingly, as a motoring journalist I've spent a lot of this year poncing around in a lot of the cars mentioned above. And equally unsurprisingly, I've enjoyed every second.
But that's not all this year's held for motoring fans. There have been some fantastic, unmissable events – and this is far more representative of what the old car scene is about than simply driving the cars. The social element is a huge aspect of why people buy and cherish their classics, and be it a classic car show or a driving holiday, it's always better when your mates come too.
How much is your car to insure? Find out in four easy steps.
Get a quote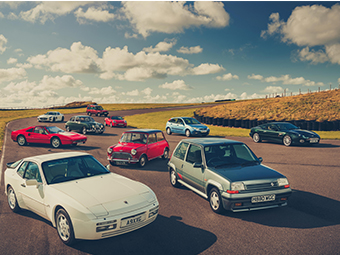 Some of the best road trips have been to collect cars – I'll never turn down a good car collection caper – and all too often this year I've made it easy by buying the car myself. By my count I've added six to the fleet during 2015, which means that next year really needs to host the sale of the century. But before we start thinking about the year to come, here are my highlights of 2015.
Best car driven: They say you should never meet your heroes. That once you have idolised something for so long, the reality doesn't quite live up to the expectation. Not only am I a sucker for cars with traditional British walnut and leather interiors, but I like a big V8 and an automatic gearbox. The Rolls Royce Silver Shadow ticks a lot of boxes then, even before we get to the socio-political side. I've always liked how it has served as transport for everyone from the landed gentry to porn barons, via shady secondhand car salesmen and magazine articles about how you CAN run one for the price of a Mondeo. It's a car which sums up the aspiration of the era, and I've loved every drive I've taken in one. The Shadow I drove back in September as part of a 50th anniversary feature reminded me just why I love them, and why one day I must have one.
Best car bought: Have you ever bought a car just because it was there and you were bored? You know how it goes. You find a car – through a mate or on eBay. You've nothing better to do, so you look at the ad. Suddenly, it's the morning after, you wake up, and just below the shiny message saying you've bought it is one asking when you can collect. And it's 200 miles away. My spurious excuse for buying a Rover 75 was that my Citroen XM had just lost all its LHM, and I needed transport. The reality was that I already had six cars and I just wanted a laugh. And at the price I could break it and get my money back. Since then I've lavished a lot of time and effort into making it perfect – I've fallen for the car I bought by accident. Oops.
Best car show: Back in July, I wrote that the Festival of the Unexceptional is like catnip to a select and hardy bunch of enthusiasts who've put up with derision for too long. And that's why it's my favourite event of the year, and why I consider it an honour to be amongst its judging panel. For those of us who like classics from the forgotten era – the 1970s, 1980s and early 1990s – it's refreshing to encounter an event where these are the cars which are celebrated, and where an E-Type or a DB5 might be turned away. You don't feel out of place showing up in a SAAB 9000, or a Montego, or a Ford Sierra, or any other car which might normally be banished to the public car park. No judgment. No snobbery. Just a bunch of decent people who like old cars.
And what for 2016? More of the same – more great events, more great cars, and no doubt more accidental purchases. And it'll be another good one for anniversaries, too. After all, the Jensen Interceptor's 50 next year…