The Silverstone Classic hasn't had the continuous history of other vintage racing events; in fact, its present iteration is barely 10 years old. But if this year's version is any indicator, it's become one of the premier events of its type in Europe, if not the world.
Although final figures for the gate haven't yet been released, organisers expect it to exceed the 92,000 reported last year. More than 90 car clubs had displays in the vast infield area, with almost 9,000 cars total on hand. The race itself comprised 14 different classes with an astonishing total of about 1,100 cars.
How much is your car to insure? Find out in four easy steps.
Get a quote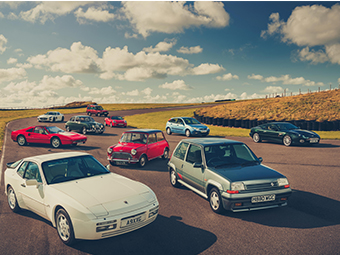 The venue itself is probably one of the best things about the event. As a modern F1 circuit, Silverstone has the ability to handle crowds well in excess of the 100,000 or so who show up for the Silverstone Classic. Consequently, car parks, viewing areas, and food and toilet facilities are quite understressed. I had no problem whatsoever finding numerous great vantage points to watch the action. Access to the garages was quite good and many of the racers and crew were happy to strike up a relaxed conversation.
The variety of cars was dizzying, as well. I saw everything from small-bore classics like Turners, Lotus Elites and Elevens, and Sprites, to monsters like Cobras, D-Types, Ferrari protoypes and a few really convincing replicas of the Peter Lindner low-drag, lightweight Jaguar E-Type coupé, perhaps the sexiest shape to ever grace a competition car. And then there were the vintage F1 cars like the McLaren M19C in the Denis Hulme/Peter Revson white, orange and black Yardley colours; the Lotus 72 in the classic John Player Special black and gold livery; as well as a Surtees TS7 — Essentially, my entire Corgi car F1 collection circa 1974.
In the evening, there was musical entertainment in the form of 1960s California blues band Canned Heat and Bonnie Tyler. I didn't see the former, but I did catch Ms. Tyler's sound check — there's obviously still plenty of petrol in that tank. Her trademark gravelly voice is fully intact and the Welsh singer looks a youthful 63. Ms. Tyler in impressive fashion reeled off a catalog of hits that was actually far more expansive than I had remembered.
Sadly the event was marred by the fatal accident on Sunday involving Denis Welch, age 69, who was driving a Lotus 18 Grand Prix car from the early 1960s. Our condolences go to Mr. Welch's family.
Tickets to the Silverstone Classic were £57.00 for a single day, multi-day passes were available at a reduced rate. All ticket purchases must be made in advance. Tickets for the 2015 Silverstone Classic go on sale in November.