There was a time, a time before hybrids, when the sports car reigned supreme, when people believed everything they heard on Top Gear. This was an age when only men were allowed to drive sports cars. And there was one that was more manly than the rest. Its name was the Lamborghini Jalpa; it was like a god walking amongst mere mortals. It had an engine that made a wolverine purr and interiors so fine they made Sinatra look like a hobo. In other words, the Jalpa was the balls.*
There's just something about the Jalpa, and its predecessor the Silhouette that ticks every box. A few years ago, Team Hagerty stumbled across an example of the latter in the Goodwood paddock during one of their Breakfast Club meets. It was fresh from a restoration, sporting wonderful bronze paintwork, a new tan-stripe leather interior and there was even a bottle of Brut wedged between the seats. It just oozed cool and instantly made you want to expose your chest hair, grow a huge moustache, and spin the tyres as you burned off down the pit lane.
How much is your car to insure? Find out in four easy steps.
Get a quote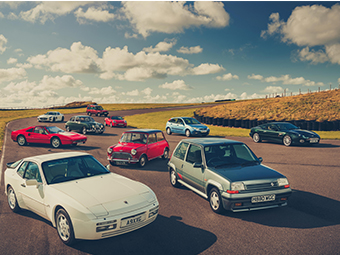 The Jalpa was built to fulfil the requirement for an 'entry level' Lamborghini for all those unable to afford the Countach and was the star in the Mimran brothers' plan to make the company profitable again after they took it over as receivers in 1978.
The specs were good for the era: its 3,485cc DOHC V8 engine pushed out a healthy 255bhp, launching it from 0 to 60mph in a shade under six seconds; roughly that of its Ferrari 328 and Lotus Esprit competitors. Ok, so these days that's BMW 330i territory, but in 1981 that was still a respectable figure and sucking through four Weber 42 DCNF carburettors, the Jalpa definitely sounds the part.
By the time the Jalpa came to the end of its run in 1988, just over 400 units had been made. That wasn't a bad number for a manufacturer used to very small production figures, and in one respect the Mimran brothers' idea had worked: although Lamborghini's corporate fortunes were far from secure, the Jalpa had helped the company become profitable again.
There's one aspect of the Jalpa that is hard to capture fully using the printed word: the phenomenal noise. Click on the link above to experience this and see what happened when Hagerty arranged for a Jalpa owner to spend the day at a closed track. Enjoy.
*With apologies to Anchorman.