Few American cars make much sense in the UK, or look good parked outside a nice old country pub.
Problems with spares and service preclude owning anything built before the 1960s, let alone defunct marques like Studebaker, Nash, Hudson, Packard, Mercury and Oldsmobile. Ask me about my 1939 Ford V-8, when I was in grammar school. On second thoughts, don't.
How much is your car to insure? Find out in four easy steps.
Get a quote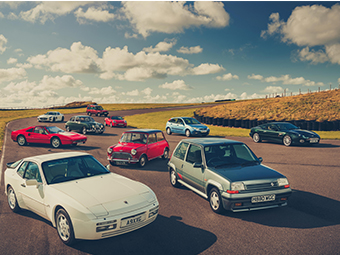 Also, U.S. designs tend to be fussy, like the iconic '57 Chevy, brash like the 1959 "Batwing" Chevy Impala and 1959 Cadillac, or merely garish, like almost all the 1958 models with "Body by Wurlitzer" — the jukebox manufacturer. And 7-litre 1960s muscle cars return unmentionable gas mileage; can you afford 7 mpg? I thought not.
One exception to both these problems is the first generation Ford Mustangs — the so-called 1964½ model made from April 17 1964 until September, when the identical 1965 model year was introduced, and through September 1966, when the puffed-up '67 model was launched.
Based on the unlovely Ford Falcon, the sleek Mustang was 181.6 inches long, rode on a 108-inch wheelbase and weighed 2,500 pounds. Prices started at $2,368. There was a 2-door hardtop coupe, a convertible and, from autumn 1964, a 2+2 fastback coupe.
To put the production numbers in perspective, 418,000 Mustangs had been sold by the model's first anniversary, and 1965's calendar year production was 518,000. The 1966 model recorded 607,568 sales to make total production of the first design a remarkable 1,288,566 examples.
These early cars are simple, light and stylish, with their long bonnets and short boots, and they are pretty nearly bulletproof. Best of all, they were made in enormous numbers and every single part is being remanufactured in the U.S. Like an MGB, you could build a completely new car today.
These early Mustangs are also relatively under-stressed (good) and crude (bad), with indifferent brakes and handling and potentially ruinous rust problems to their monocoque shells. However, even the 101-horsepower, 2.75-litre, 6-cylinder 1964 model is more than able to keep up with European traffic and, driven carefully, can return 25 mpg.
One reason the Mustang was so popular was the string of options that were available. You could get the "pony interior" with the grill-badge impressed into the seat backs. The GT package offered five round gauges, instead of the Falcon instrument panel, stripes and driving lights in the grille. Of course there was power steering, power brake options (front discs in 1966), wire-wheel and "knock-off" spinner hubcaps, factory alloy wheels and dual exhausts. Air-conditioning was a simple below-dash unit and you could order power windows, also a power top on the convertible. There were dozens of colors. All Mustangs are LHD, except for some conversions done in Australia, where LHD penalties were impossibly inconvenient (big sign on the back of the car, etc.).
Mustang engines ranged from the 170 cubic-inch 6-cylinder in 1964, the 200 cubic-inch 6-cylinder in 1965 and 1966, and the 289 cubic-inch V-8. This could be had as the A-code 200-horsepower unit, the C-code 225 horsepower engine and K-code 271 GT motor (I use cubic inches, because that's the way you will usually see them advertised). Transmissions were 3- and 4-speed manual (3-speed only with the 6-cylinder motor) and 3-speed automatic.
Rare option packages range all the way up to the Shelby GT 350 of 1965 (521 made) and 1966 (2,367 made), plus the 34 1965 "R" (for racing) models. Unless you have the bank account of Croesus — and especially if you DO, be aware there are many fakes, and complete and irrefutable provenance is vital before you toy with a six-figure deal.
So let's be practical. Simple, basic early Mustangs are common in the U.S. and can be found in the UK. Original cars can be especially sweet running. They exist, too: I saw a red 5,000-mile, 6-cylinder original, with one old repaint, sell at a Monterey, California, auction in 2010 for £11,300. Desert areas such as California, Arizona or maybe Texas are the best points of origin. Rust is almost never an issue and there's a decent amount of money around, so cars won't have been beaten to death.
A sound, Plain Jane '64-'66 coupe should be available for £6,000-8,000, plus shipping. Figure about double that for a decent convertible and don't worry about performance options, unless you are buying a one-owner car from somebody who has the original window sticker.
As always, even if you are buying a one-owner car from a priest, have a professional appraiser or a local Mustang club member inspect the car for you. NEVER purchase a car sight unseen by an expert, and if you buy a car in England, make sure you have somebody knowledgeable go with you to inspect it. Try the Mustang Owners Club of Great Britain, for example.
When you buy your car, make a list of replacements and upgrades that you fancy and go online. You'll be amazed what you can buy. The Mustang offers the very best of 1960s motoring. They are nippy, stylish and easy to work on — and the best thing is, you don't have to.