Marlene Dietrich's 1930 Rolls-Royce Phantom, Transformal Phaeton
Perhaps one of the most interesting "barn finds" in the history of motor car collecting, the 1930 Rolls Royce Phantom that was given to Marlene Dietrich on 14th April 1930 is coming up for sale by Bonhams at their Amelia Island Auction on 12th March 2015. Now immaculately restored this is a car with a checkered – and therefore interesting – history. It has starred in a movie, been owned by one of the world's most famous silverscreen movie stars, and used by a sixteen year old girl to pass her driving test.
How much is your car to insure? Find out in four easy steps.
Get a quote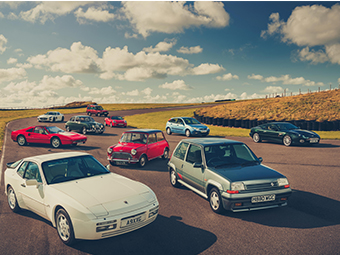 Rolls-Royce cars were favored by Hollywood executives and stars during the "roaring twenties" and Paramount Studio executive Jack Warner purchased a beautiful ivory/cream colored one with coachwork by Hibbard and Darrin of Paris in 1929. At the time it was the only one of its kind. He liked the car so much that when the studio recruited Marlene Dietrich to work for them he had a second one built, this time in a gentle forest green color, which was gifted to her and used in the 1930 movie 'Morocco' in which she starred with a young Gary Cooper.
It was Paramount Studio's director Josef von Sternberg who welcomed Dietrich to Hollywood with a bouquet of flowers and the green Rolls Royce. Jack Warner also arranged a chauffeur/bodyguard named Briggs to look after Miss Dietrich. Briggs was equipped with a pair of revolvers with which to protect Miss Dietrich and the moview star outfitted him with a mink lined jacket to protect him from the rigors of the cold.
Sadly, "all good things must come to an end" and so it was that Dietrich sold the car in the mid nineteen forties to a pioneer car collector J. R. "Bob" Creighton who is officially listed as the car's third owner (the car's first listed owner being von Sternber and the second Dietrich herself). The car was used regularly and in 1960 Bob Creighton's then sixteen year old niece took such a liking to it she used it to learn how to drive and passed her driving test with it.
It is of itself a testament to the design and engineering quality of Rolls-Royce that a vehicle of the Phantom's weight and size could be used by a young driver with sufficient ease that she felt confident to take her driving test with it- she scored 98/100 on her driving exam. I wonder how a modern day driving examiner would react if a young learner driver turned up for his/her driving test in a 7.6 liter Rolls-Royce with a 143½ inch wheelbase.
When Bob Creighton passed away in 1974 the car was inherited by his daughter. It was in need of some work by then and a family member took on the task of fully stripping and restoring it. It was a mammoth task which he only managed to begin, and by 1995 it was decided that it would be best to sell the Rolls. A California car collector dealer bought it sight unseen. This story is told in detail in the book "The Cobra in the Barn" by Tom Cotter.
The car remained un-restored until 2007 when it was purchased by the late John O'Quinn and handed over with a rather large sum of money to Rick Hamlin's Classic Body Works for a complete restoration; and what a restoration it has been given. Every detail has been painstakingly restored down to the finding and analyzing of flakes of remaining old green paint to discover that the original forest green had flakes of gold leaf in it to give it a special shine in sunlight. All original features of the car, including the flakes of gold in the green paint, have been immaculately restored.
This car is coming up for auction by Bonhams at the Amelia Island Auction on 12th March 2015. Much more than just a car, this beautiful green Rolls-Royce is itself an actor in the colorful history of Hollywood and a remnant of the opulence that Hollywood once iconified. This is a car in which, as you drive along Hollywood Boulevarde one day, you may imagine you hear Marlene Deitrich's voice whispering to you from the passenger compartment, saying "I am not a myth".